This Wednesday, the Evraz share price is down after the company said Societe General New York blocked an essential bond coupon payment is made as part of its Eurobond obligations due to sanctions. The Evraz share price continues to trade below 1p after the FTSE Rusell index delisted it from the list of traded assets. 
The CFDs on the stock were heavily down on Wednesday after Chelsea FC owner and holder of a 28.6% majority stake in the company, Roman Abramovich, was sanctioned by the UK government last week. Evraz had submitted a coupon payment worth $18.9 million on a $704 million Eurobond 2023 note, but the payment was blocked at the correspondent bank as part of financial sanctions against entities owned by individuals alleged to be close to Russian President Vladimir Putin. 
The company maintains that Abramovich does not own a controlling stake, so it should not be placed under the sanctions regime that has led to the blockage of its payments. Evraz says it has written to the UK Treasury and Foreign, Commonwealth, and Development Office to seek clarity on the issue. Evraz also reiterated that it had sufficient liquidity to handle its coupon payments. 
Evraz Share Price Outlook
After bouncing off 2016 lows, the Evraz share price attempted a recovery which was truncated at the 80.88 resistance level (8 July 2015/10 May 2016 lows). This has put the stock on the path to retest the 3 February 2016 low at 58.22. If the price activity breaches this support level, the Evraz share price will touch off new record lows. The bearish flag formed on the daily chart points to the potential to go all the way down to zero.
On the other hand, any recovery in the Evraz share price must follow a break of the 109.86 resistance. This will bring in new targets at 180.52 and 275.64, with the potential for pitstops at 141.94 and 240.96.
Evraz: 4-hour Chart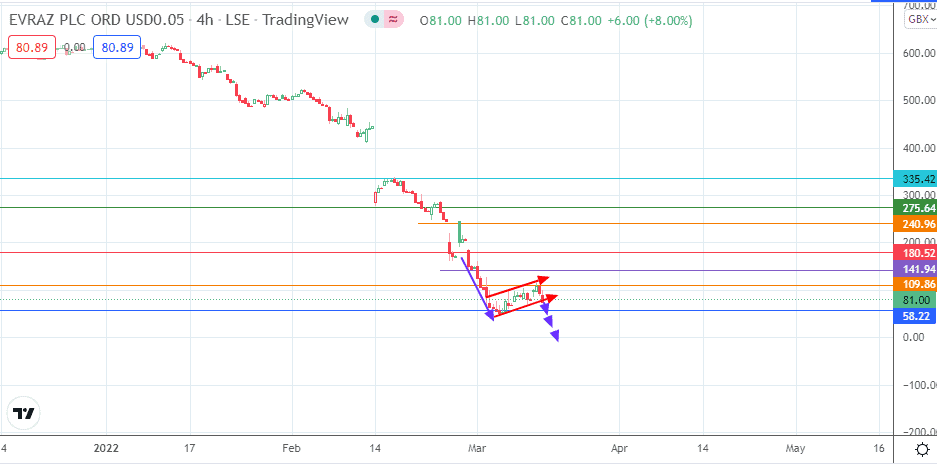 Follow Eno on Twitter.