The Evergrande stock price continues on its calamitous run to the precipice, even as talks are underway to salvage the company.
The latest news indicates that the Shenzhen Worldunion is negotiating with Evergrande over its debts, estimated to have hit $350 billion. The negotiations have led to a settlement of receivables worth 246 million Yuan (about $38.1million). However, Worldunion says it has not ruled out legal action to protect its interests and those of investors.
Meanwhile, police had to disperse aggrieved protesters outside the company's headquarters to demand answers as the liquidity crisis beset China's second-largest property developer drags on.
The Evergrande Group share price is down 23.75% this week, marking the 25th week of losses out of thirty.
Evergrande Stock Price Outlook
At 2.63, the Evergrande stock price is trading just below the 2014 lows at 2.67. A breakdown of this support sends Evergrande stock price to its all-time low of 1.66. At this point, the stock can either bounce (if some form of liquidity injection comes in), or crash even lower.
Any upside push on the price action provides new selling opportunities. Potential price marks for these opportunities are found at the 4.69 and 7.63 resistance barriers. Only when the Evergrande stock price breaks above 9.75 and 13.88 does the Evergrande group share price have a real chance of recovery. Such a recovery would present the opportunity to test the 16.00 psychological resistance. 
Evergrande Share Price (Weekly)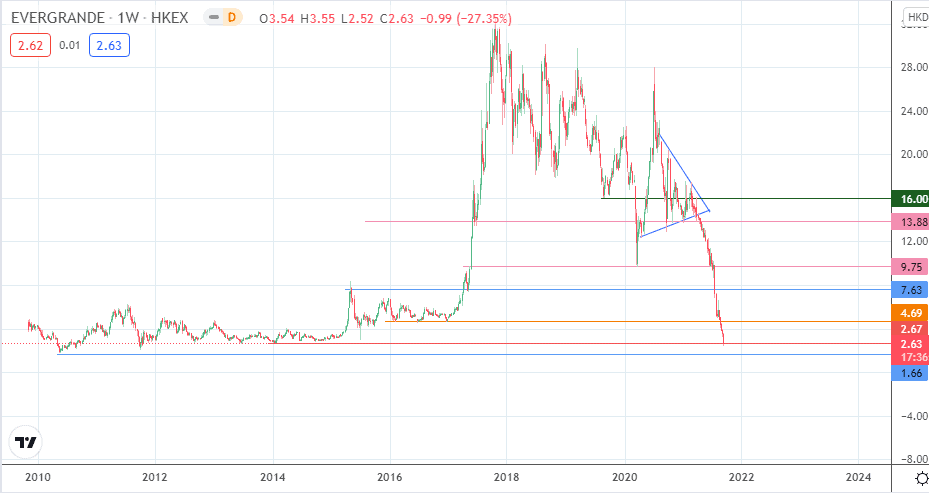 Follow Eno on Twitter.