EURUSD saw its two-day rally evaporate as President Donald Trump became the bookies favourite for the election win. The move will be driven in part by the expected higher stimulus spending under a Biden term.
Biden currently leads the electoral race to 170 votes by 238 to 213, but Trump looks to be ahead in the key battleground state of Pennsylvania, which provides 20 votes. Fox News projected a Biden flip in Arizona, which is 10 votes but some were unsure whether this would hold.
The issue for the EURUSD and other financial markets is that both sides are projecting victory and the picture may not become clear tonight, while some suggest it may need Supreme Court intervention. Markets hate uncertainty and we could see some fatigue set in today.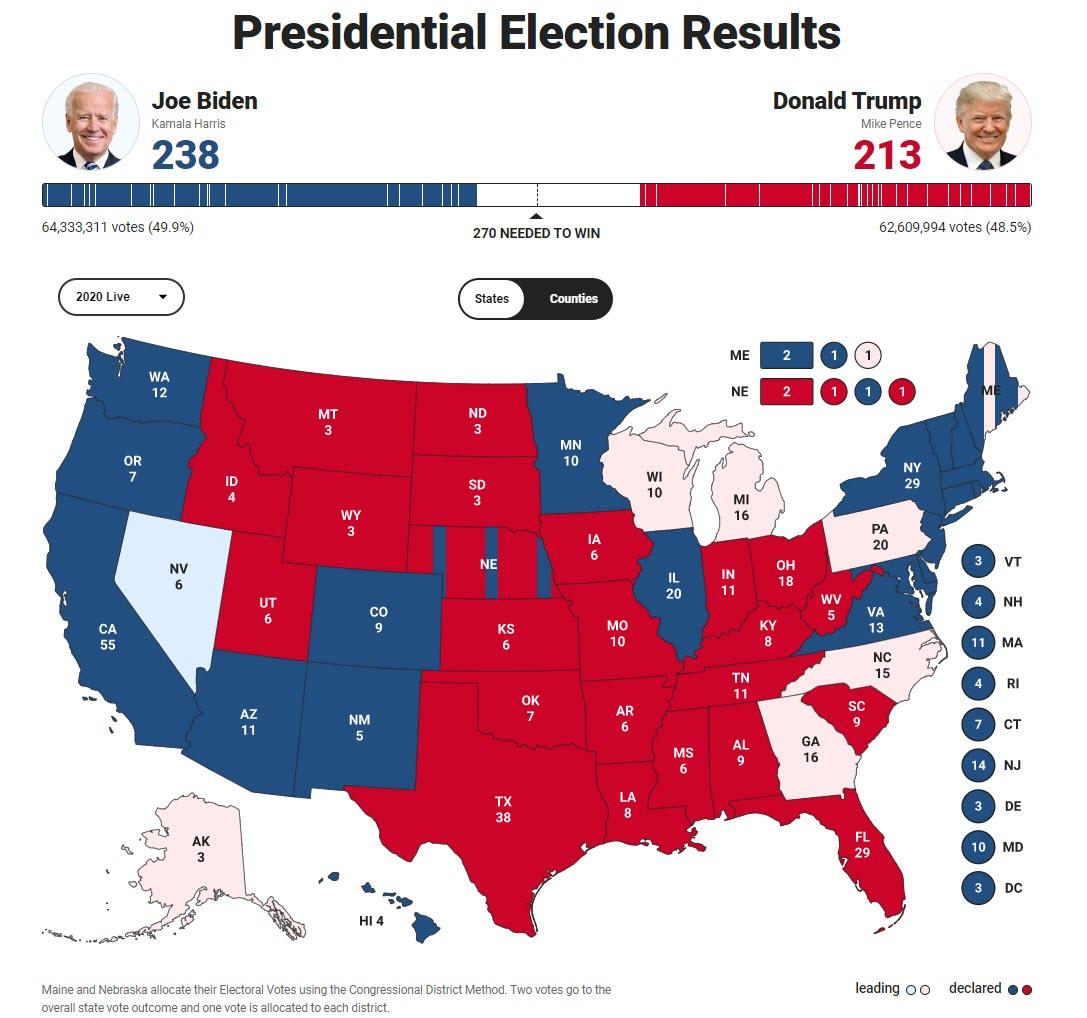 Donald Trump currently needs 57 votes and he could go a long way with a Pennsylvania win, while the incumbent said in a Tweet that he was up 2.5% in Georgia and 1.3% in North Carolina. Those three states would provide 51 votes and Trump won the latter two in 2016. We still have to get results from Michigan and Wisconsin which were also won by Trump in the last election and provide 26 votes combined so this is why Trump is the new bookies choice. The election will hold the markets attention today but we also have a Federal Reserve interest rate decision ahead tomorrow.
EURUSD Technical Outlook
EURUSD bounced from the 1.1600 level and the pair rallied to almost 1.1800. The price has fallen from a test of the 50-day moving average to hit 1.1600 again. A bearish close here will open the door to further lows but the pair is still at risk from election headlines and the outlook could change. The Investing Cube team is currently available to help all levels of traders with the Forex Trading Course or one-to-one coaching.     
Don't miss a beat! Follow us on Telegram and Twitter.
EURUSD Daily Chart
More content