The EUR/GBP has recovered some of the ground it lost earlier in the week after it posted a gain of 0.18% on the day. In a week that has been relatively thin on market-moving news from the forex calendar, geopolitical events have taken centre stage as the fundamental drivers of the price action.
The French election is just three days away, and the polls show that incumbent President Emmanuel Macron's lead over his rival Marie Le Pen has dropped to just 5 points after having been as high as 10.5 points. The increasing uncertainty could make for a very volatile Monday on the EUR/GBP pair, depending on where the election results swing. 
A secondary trigger for price action remains the interest rate policies of the Bank of England on the one hand, and the European Central Bank (ECB) on the other. A hawkish BoE and a more dovish ECB have kept the Euro under pressure against the Pound. Next week's ECB decision could weigh on the pair.
EUR/GBP Outlook
The circled area was identified in my analysis a few weeks ago as a potential reversal point for the advance move on the EUR/GBP seen from the bounce on the channel's lower border. This prediction was fulfilled, and the EUR/GBP retraced from the 0.84883 resistance towards the 0.83073 support, violating several pivots.
The intraday bounce has set the pair on the path towards 0.83932. A break of this resistance area targets the 0.84503 barrier. Above this barrier, an advance would retest the 0.84883 resistance. If the bulls finally overcome this price area, 0.85043 and 0.85372 would become the additional targets to the north. If the advance continues, the 5 November 2021 and 8 December 2021 highs at 0.85952 will enter the mix as a different target to the north.
On the flip side, the bears would need to seek a breakdown of the 0.83073 support for the lows of 13 December 2019/17 February 2020 at 0.82825 to become an active target to the south. Below this level, the 7 March 2022 low at 0.82057 becomes a viable support point.
EUR/GBP: Daily Chart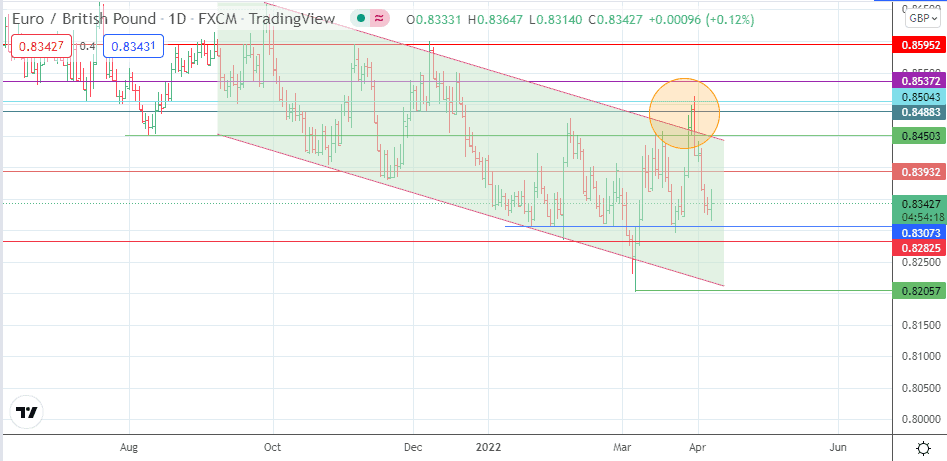 Follow Eno on Twitter.