The Eurasia mining stock is currently down by 3.23% as of writing this Tuesday, following the resumption of trading after the Easter holidays. The bulls have fought off an initial dip below a key support, but bearish momentum persists and could continue to pressurise the stock.
Eurasia Mining is one of the metal stocks that have taken a hit from the negative sentiment that crept into the LSE-listed metal stocks due to the sanctions on Russian entities. The company had to refute reports that team members were ditching the stock amid Western sanctions on Russia. Despite the company saying in a press release that it was not associated with any sanctioned entities, the EUA share price has struggled to generate upside traction.
The consensus price target of an institutional analyst over a 12-month outlook period is 95.55p, which leaves a 927% upside potential on the stock. In addition, Eurasia mining has previously reported that an unnamed buyer has completed due diligence to make a bid for the company's assets. Such plays may be required if the EUA share price is to come anywhere close to its 12-month projected price targets.
EUA Share Price Outlook
The 4-hour chart shows an evolving descending triangle pattern, whose lower border is formed by the support at 9.040. This border needs to give way for the bears to push the action towards the 15 March low at 7.465. Attainment of this support level forms the completion point of the measured move from the descending triangle's breakdown.
Support targets at 5.975 (1 March low) and 4.040 (10 January 2020 high in role reversal) are extra harvest points for bears looking to profit from the pattern's completion. This move also marks the resumption of the downward trend after the upside retracement move of March to April 2022.
On the flip side, a break above the triangle's upper border targets 10.735 (18 March 2022 high). A continued advance beyond this resistance invalidates the triangle and opens the door towards the 12.010 resistance target. A break above this level and the ascending trendline, which connects the lows of March/early April 2022, targets the 24 February/29 March highs at 13.945. If the bulls can uncap this level, it extends the recovery move of the EUA share price and targets the 16.000 psychological support level (23 February low in role reversal).
EUA: Daily Price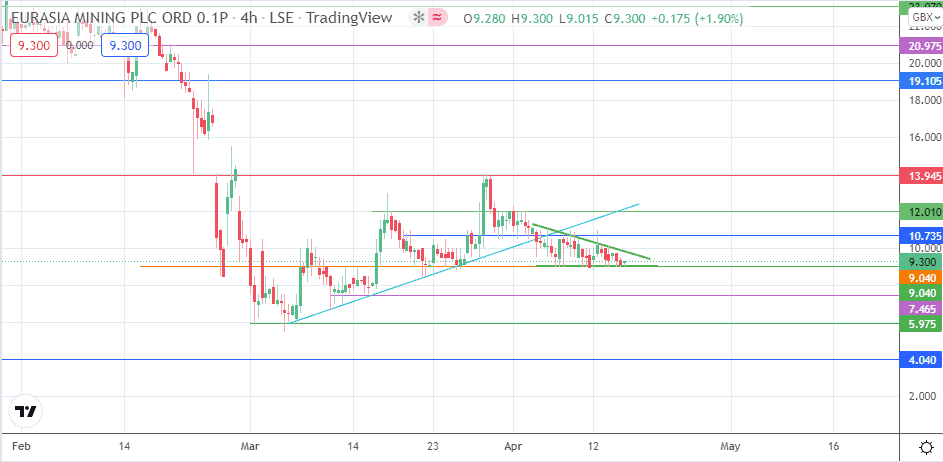 Follow Eno on Twitter.