The Ethereum price is consolidating above several key support areas, which indicates a growing belief that ETH will perform well in December.
Ethereum (ETH) is slightly higher at $4,300 (+0.65%) on Thursday but pretty much flat so far in November. ETH's current market cap sits at $510 Billion, which is around 20% of the total value of the cryptocurrency market. Despite the weakness over the last two weeks, Ethereum is holding up well and is outperforming Bitcoin (BTC). Furthermore, ETH is above the 50-day Moving Average, which has been a positive sign in the past.
However, despite Ethereum's relative stability, it is losing ground to layer-1 rivals like Solana and Avalanche, which offer cheaper and faster transactions. Nonetheless, Institutions are increasing exposure to ETH in anticipation the network will solve those issues over time. Considering this and ETH's resilience, the price looks ready for a move higher into year-end. That is, as long as Bitcoin doesn't suffer further losses.
ETH Price Analysis
The daily chart shows the Ethereum price is well supported, down to $3,900. Furthermore, the 50-Day Moving Average at $4,186 reinforces the floor beneath the price.
As long as ETH continues to respect the 50-DMA, it should continue higher. However, the market faces several headwinds, which may need to clear before an extended bull run can occur. The biggest obstacle is undoubtedly the chatter that India will follow China and ban cryptocurrencies. Therefore, the Ethereum price could face uncertainty.
On that basis, I am cautiously optimistic as long as the price remains above $3,900. However, a close below that level suggests a breakdown, invalidating the bullish view.
Ethereum Price Chart (daily)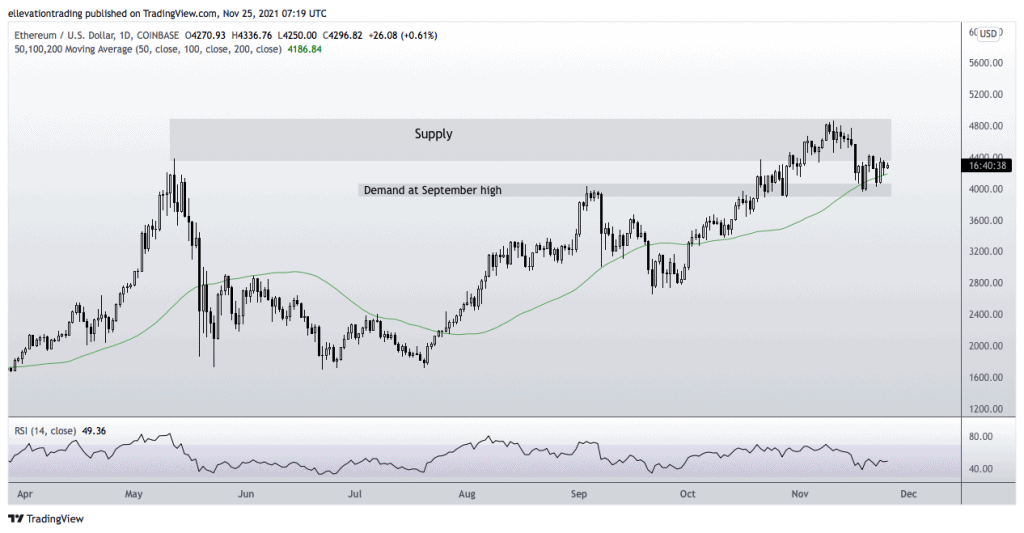 For more market insights, follow Elliott on Twitter.