The Ethereum price appeared on track to achieve a new record this morning but is now fighting to hold the fundamental $4,000 level. Ethereum (ETH/USD) is trading at $4,003, around 6% below today's high of $4,314, paring its month-to-date performance to +34%.
Today started brightly for Ethereum. In early trading, Ethereum recaptured $4k and was making steady progress towards the $4,384 all-time high. However, for the second time in a week, ETH faced rejection at the top-end of its historical range and reversed lower. The cause of the sudden drop is likely due to Bitcoin losing the $60k support level. Altcoins reacted sharply lower As BTC slid to a two-week low of $58,100 today. However, the market leader is stable at $59,000, helping the Ethereum price recover from its intraday low of $3,940.
Furthermore, if ETH weathers the storm, it may embolden the longs and encourage more buyers into the fray. If that proves true, the Ethereum price could be at a new high soon. However, if more sellers emerge later today and Ethereum drops below the support between $3,950 and $4,000, a new high may not be seen for some time.
ETH Price Forecast
The daily chart shows Ethereum has been respecting a short-term uptrend this month. The price did slip from the uptrend earlier today as the selling intensified, leading to a test of horizontal support at $3,950. However, ETH has now reclaimed the horizontal support and the uptrend. On that basis, the Ethereum price action looks encouraging and suggests the worst may be over for now unless Bitcoin starts to slide.
In my opinion, if Bitcoin ends the day below $61,000, it could forge a path lower to $53,000. If that happens, the Ethereum price will also break down. A daily close for ETH below $3,950 could drive the price into the band of support between $3,240 and $3,600. For now, the best approach is to sit back and let today run its course. We are either witnessing a slight retracement or the start of a more significant move lower, but until the day ends, we won't know which. Therefore, I am currently on the sidelines awaiting confirmation.
Ethereum price Chart (daily)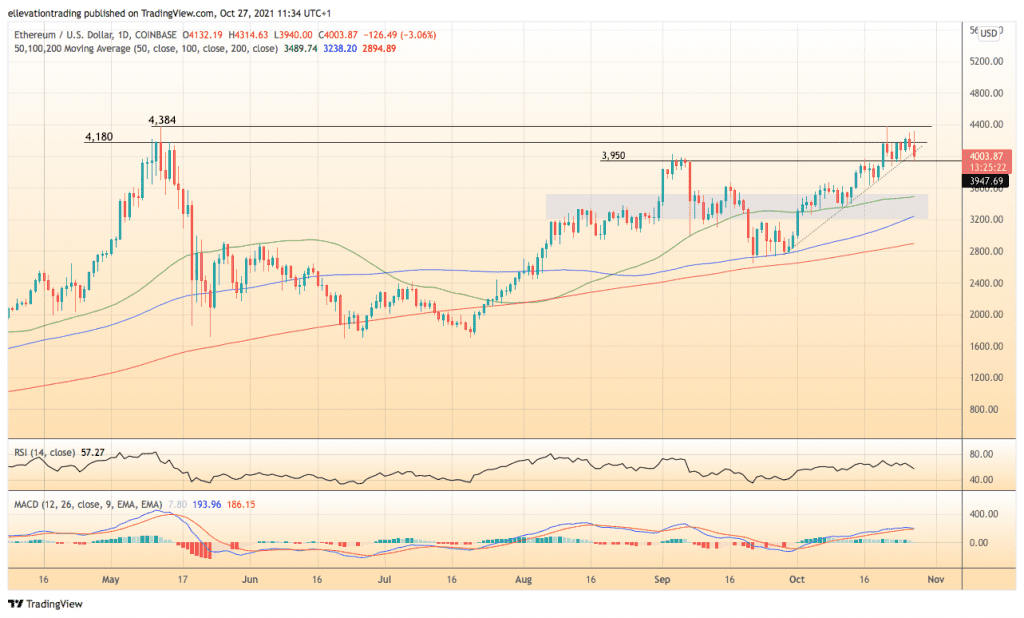 For more market insights, follow Elliott on Twitter.