LON: ENT share price closed in the green on Tuesday after experiencing a major correction on Monday. Entain share price has been in a tailspin since it announced mixed results for the first half of 2023. The shares of the sports betting firm closed Tuesday at 947.4p and were up by 3.2%.
The recent sell-off in the shares of Entain was further intensified due to the ongoing pullback in the FTSE 100 index from 7,700 points. The British benchmark closed at 7,625 on Tuesday without showing any significant gain or loss.
Entain Reports Growth Despite Decrease In Revenue
The management of Entain announced decent growth in its online platform despite very soft Q3 results as the recent gambling regulations loom around Entain and other gambling businesses. The betting company also went through a strategic transformation over the course of three years to improve its operations and ensure profits in the long term.
In other news, JP Morgan dropped the price target for Entain shares. The American bank set an £18 target from its previous £22 while keeping its "overweight" rating. Entain share price is 33% down from its August highs.
Entain Technical Analysis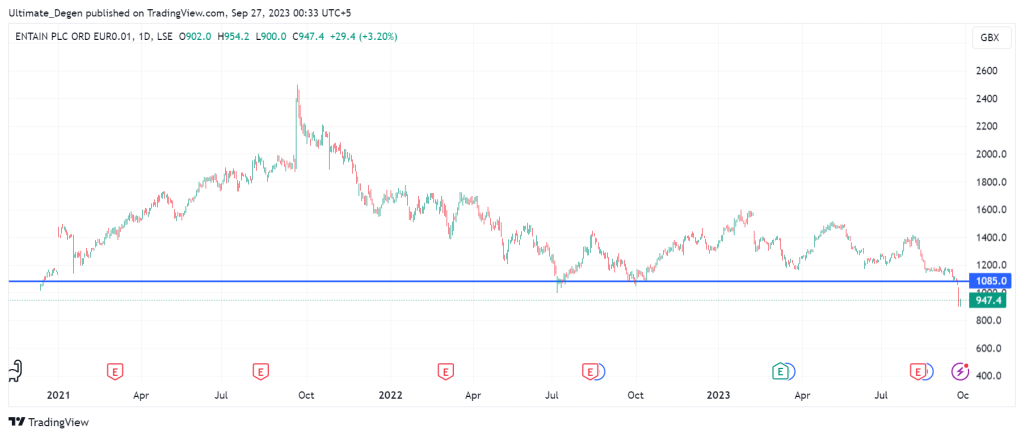 Entain Share Price Forecast
Bears are at work on the following LON: ENT chart as the price has broken below the key support level of £1.085 since week. Currently, the shares stand 13% below this level. We can also see the chart broke below the 200 MA back in August, which further contributes to the bearish outlook.
As long as the shares trade below the key psychological level of £10, my Entain share price forecast will remain bearish. However, there is still some hope for the bulls as they can still make a comeback by reclaiming the 1.085 level which may now act as a massive resistance on the higher timeframe.