The Enjin Coin price has been a significant beneficiary of the hype surrounding Metaverse and play-to-earn crypto projects. Enjin Coin (ENJ) has gained 9.5% in the last 24-hours and over 25% during the previous seven days. The blockchain-based gaming platform now has a market cap of $2.52 Billion, ranking it the 68th most valuable crypto project behind BitTorrent (BTT).
Enjin coin surged in value after Facebook announced it is changing its name to 'Meta' and will focus on developing the 'Metaverse'. ENJ embarked on a three-day rally following the announcement, gaining over 75% to $3.500. But the gains were short-lived, and within 24-hours, the token had reversed 32%. However, the bulls appear unperturbed and have since bid the price higher but are yet to crack the $3.500 level. Nonetheless, the Enjin coin price is displaying strength, which could soon take it above last week's top and towards May's all-time high of $4.033.
ENJ Price Analysis
The 2-hour chart shows Enjin Coin is trending higher along to 20-period moving average. Furthermore, the price has good support below the market between $2.730 and $2.800. In my opinion, the short-term technical outlook is constructive as long as the token sustains the $2.730 level. However, if ENJ loses the $2.730 support, a slide towards the August high at $2.330 (dotted line) is probable.
The bullish scenario appears likely when taking the positive momentum into account. On that basis, I expect ENJ to surpass $3.500 in the coming sessions. However, if the price slips below $2.730, it invalidates the bullish thesis and suggests a breakdown to $2.3325.
Enjin Coin Price Chart (2-Hour)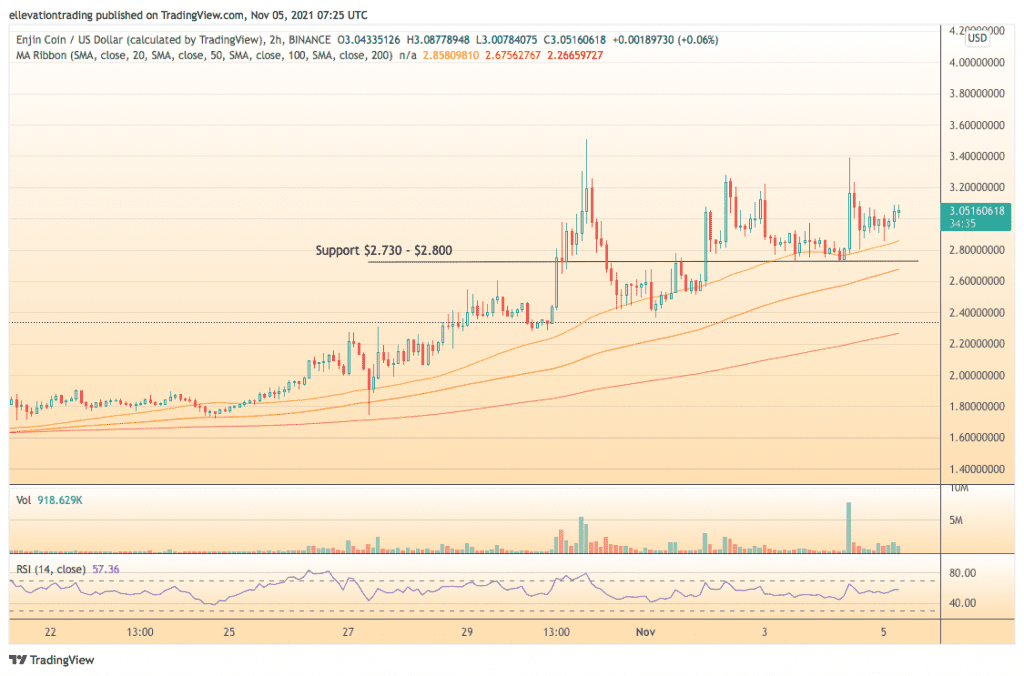 For more market insights, follow Elliott on Twitter.