Enjin Coin (ENJ) surged above $2.00, reaching a five-month high of $2.5938 on Friday as a wave of optimism enveloped the altcoin market. ENJ is trading at $2.4466 (+5.55%), up 87% in October and almost 1,800% this year. Enjin's current market cap sits just over £2 billion, ranking it the 64th most valuable crypto project behind Zcash (ZEC).
Altcoins have seen a sudden surge in investor appetite over the last few days. Many top tokens like Ethereum (ETH) and Fantom (FTM) have burst through previous highs and into unchartered territory. Similar to April and May this year, capital is flowing into assets that have recently underperformed in the hope of catching the next parabolic rally.
As a result, the majority of the top-100 cryptocurrencies are higher over the last week. Subsequently, Enjin coin has surged above a five-month downtrend and is on the verge of going vertical. Despite this, ENJ is still around 40% below its May high of $4.0335. Nonetheless, there are encouraging signs that Enjin will narrow the gap. However, short-term indicators suggest otherwise.
ENJ Price Analysis
The daily chart shows ENJ cleared trend resistance at $1.7800 on the 20th. Furthermore, the price pulled back and bounced from trend support after breaking out, reinforcing its validity. After successfully retesting the trend, Ejin surged above the September high of $2.3325, now the first support. Below $2.3325, the 50, 100, and 200-DMA's join the trend (now at $1.6600) to create significant confluent support.
However, the Relative Strength Index (RSI) reading of 77.79 tells us the rally is overdone in the near term. On the other hand, cryptocurrencies have a habit of over-extending for long periods before correcting. Nonetheless, the elevated RSI reading could be significant. If Enjin coin retraces below $2.3325, it could trigger a reversal, targeting the trend support. But for now, the likeliest scenario is a squeeze higher, which in my opinion, will ultimately prove unsustainable. However, as long as ENJ holds $2.3325, it will likely go higher, but a close below $2.3325 could derail the immediate bullish outlook.
Enjin Coin Price Chart (Daily)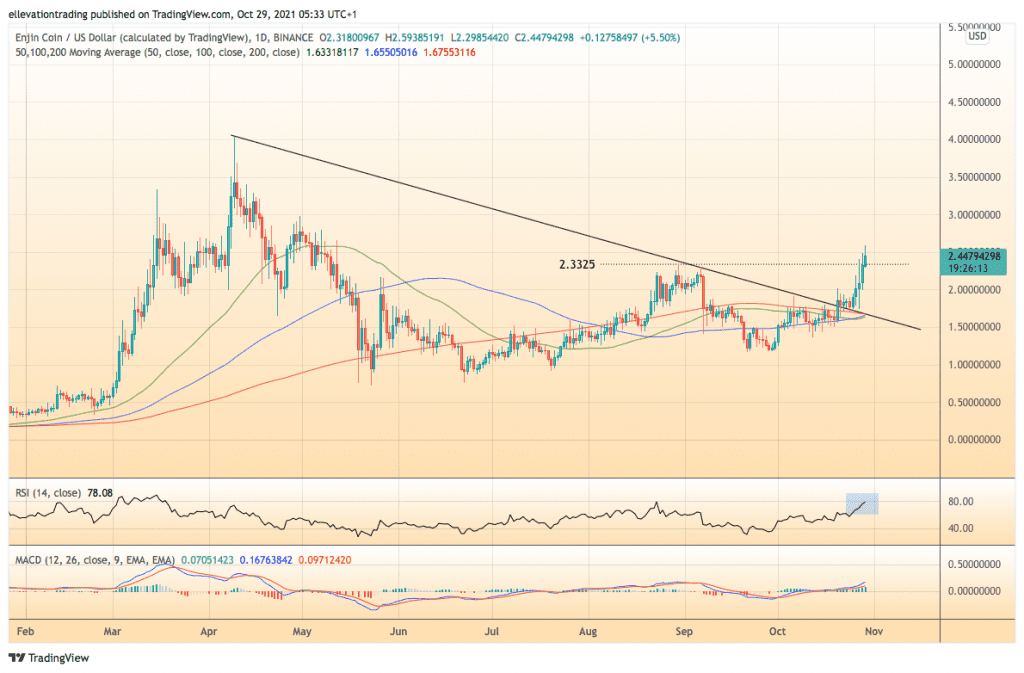 For more market insights, follow Elliott on Twitter.