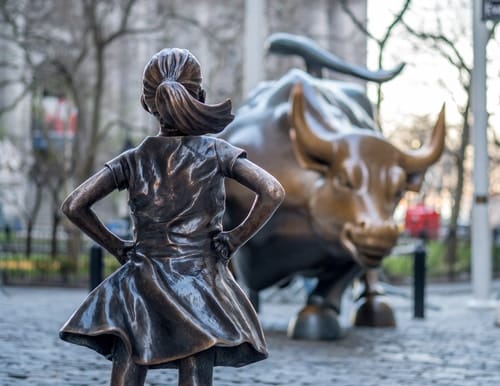 Indices
Dow Jones Moves 1400 Points Higher on Pfizer Vaccine Boost
The Dow Jones index rallied 5% on Monday after Pfizer released highly positive news about a coronavirus vaccine. The company said the trial was successful in 90% of patients and this led to a 1400 point move higher in the Dow 30.
Pfizer stocks blasted higher on the open before giving up some gains to settle at 7% higher. The company tested its phase 3 vaccine on over 40,000 patients with 90% of them not contracting the vaccine within the 28-day test window. The move higher in the Dow Jones is the fourth-highest points gain on record.
The Dow Jones is rallying as it is home to some "bricks and mortar" retailers that have suffered from the virus lockdowns. Names such as Coca Cola, Starbucks, Wal Mart, Home Depot and Disney are all higher on the news as traders see the potential for these companies to get back to their pre-virus levels of revenue.   
Other sectors are seeing big gains with traders pushing oil back to $41.00 and jumping on airline, travel, and cruise ship stocks for a recovery play. A negative for one Dow constituent is the news that the European Union will hit Boeing with tariffs on $4 billion worth of airplanes and goods. The news didn't affect the company with Boeing up 10% in the first half-hour of U.S. trading. The EU's Executive Vice-President said of the tariffs:
"Regrettably, in spite of our best efforts due to the lack of progress from (the) U.S. side, we can confirm that the European Union will later today exercise our rights and impose counter-measures awarded to us by the WTO".
U.S. stocks should see further gains on the week, however there is still the U.S. election in the background and the Trump legal challenges may move the goalposts.
Dow Jones Technical Outlook
The Dow Jones found support at the 26,500 level and has moved back above the June high at 27,634. This gave the index a base and today's rally sees the index hitting the 30,000 level for the first time. The days ahead will determine whether that high can become an obstacle to further gains. The Investing Cube team is currently available to help all levels of traders with the Forex Trading Course or one-to-one coaching. 
Don't miss a beat! Follow us on Telegram and Twitter.
Dow Jones Daily Chart
More content