The Diageo share price briefly touched off all-time highs on Thursday at 4056.5, as the stock seeks to cap a wonderful 2021.
A lot of this success boils down to the company's engagement with its clients during the pandemic when pubs and restaurants were mostly closed. Diageo's Chief Marketing Officer Cristina Diezhandino says it is all about its unprecedented engagement on e-commerce channels.
Diezhandino says that the pandemic and the associated closure of its regular retail channels forced the company into a radical change from on-trade marketing to e-commerce channels, resulting in a 16% organic growth in half-year results. E-commerce channels are now responsible for 5% of the company's sales.
Investors have recognized this approach, and their appetite for Diageo's stock has sent it to record high territory this Thursday. This move also comes as a poll of five analysts showed a consensus rating of "BUY".
Diageo Share Price Outlook
The violation of the 8 December high at 4051.0 puts the Diageo share price in record territory, with 4120.5 expected to become the next bull target if the break above the 161.8% Fibonacci level at 4046.0 is confirmed. 4120.5 is also the completion point of the measured move from the bullish flag. 4173.5 is an additional barrier to the north if the bulls push past the flag's completion point at 4120.5.
On the other hand, rejection at the 4046.0 resistance brings 4006.0 into the picture as the initial downside target. Below this level, 3978.0 and 3925.0 are additional targets to the south. Only a decline below these levels will make 3857.5 (16 November low) visible as a viable target. 
Diageo: Daily Chart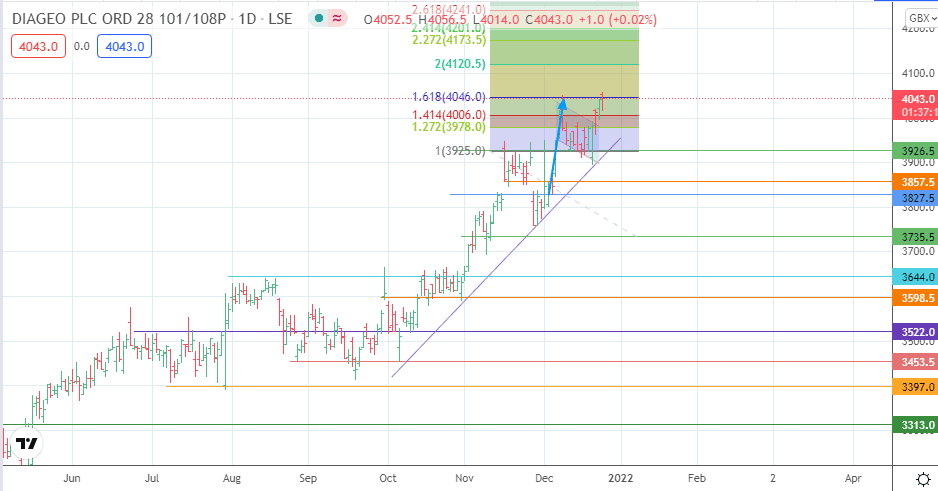 Follow Eno on Twitter.