The Deliveroo share price continues to nosedive after the Brussels Labour Prosecutor's office appealed a decision that gave Deliveroo and other gig companies a reprieve from proposed new labour laws.
An 8 December judgment ruled that Deliveroo and other gig economy companies did not need to reclassify its independent contractors as substantive employees deserving a labour contract.
Deliveroo had gone to court to challenge an EU ruling which would have forced it to grant employee status to its delivery drivers and riders, complete with health, leave, and other employee benefits. The 8 December judgment favoured Deliveroo, insisting that the drivers remain independent contractors.
The appeal by the Belgian Labour Prosecutor has spooked investors, who are selling their Deliveroo stocks and driving prices lower. The Deliveroo share price is on course to post a seventh consecutive losing week. It is down nearly 15% in 2022.
Deliveroo Share Price Outlook
The continued decline in the Deliveroo share price has breached the 192.30 support level (100% Fibonacci extension level from the price swing of 18 August, 12 September and 26 November lows). This move has opened the door towards the 156.10 support (127.2% Fibonacci extension level), the next pivot in line.
On the other hand, price recovery beyond 192.30 allows the bulls to aim for the 214.15 resistance. Beyond this level, additional resistance barriers are seen at 230.55 and 247.20. Attainment of these barriers requires strong bullish momentum. Only a break of 274.90 changes the sentiment in the market; otherwise, these resistance levels may become rally-selling points for the bears.
Deliveroo: Daily Chart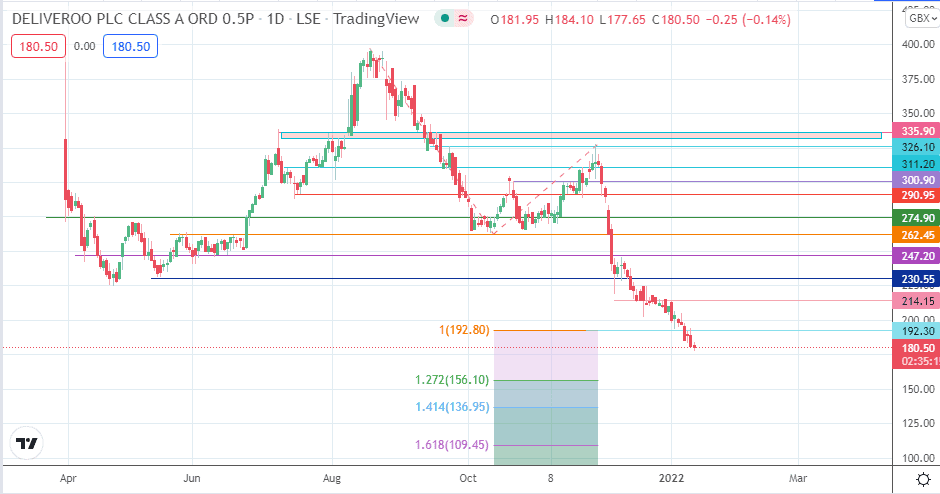 Follow Eno on Twitter.