The Darktrace share price retreated briefly this Friday, taking a break from ten days of gains that came about as the company raised its 2022 outlook. Friday's correction is more of profit-taking after the stock gained 73.7% in the last two weeks.
Darktrace announced an attributable profit for H1 2022 of $5.9m or $0.01 per share, compared with a loss of $48.4m or a loss per share of $0.10 it recorded in the same period a year earlier. This figure was better than expected, as analysts had predicted a loss per share of $11.4m (-$0.02 per share). Revenue jumped 53% from $126.5m to $192.6m, exceeding analysts' expectations of $188.1m.
Darktrace has also provided positive forward guidance for 2022. It expects to boost its revenue on a year-on-year basis to the tune of 44.5% – 46.5%. This is an upgraded outlook from the previous one, which indicated a revenue growth of 42% to 44%. The Darktrace share price is down 5.02% on the day.
Darktrace Share Price Outlook
The upside move follows the break of the falling wedge pattern, with the measured move completed at the 549.5 resistance barrier. The pullback targets 452.0 initially, with 316.0 serving as an additional target to the south.
However, sentiment remains bullish, and there is the potential for a bounce from the 452.0 support, targeting 549.5 again. A successful break of this area allows 641.5 to become the new target. 700.0 (4 August and 2 November 2021 highs) and 792.0 (former neckline of the double top) are additional targets to the north.
Darktrace: Daily Chart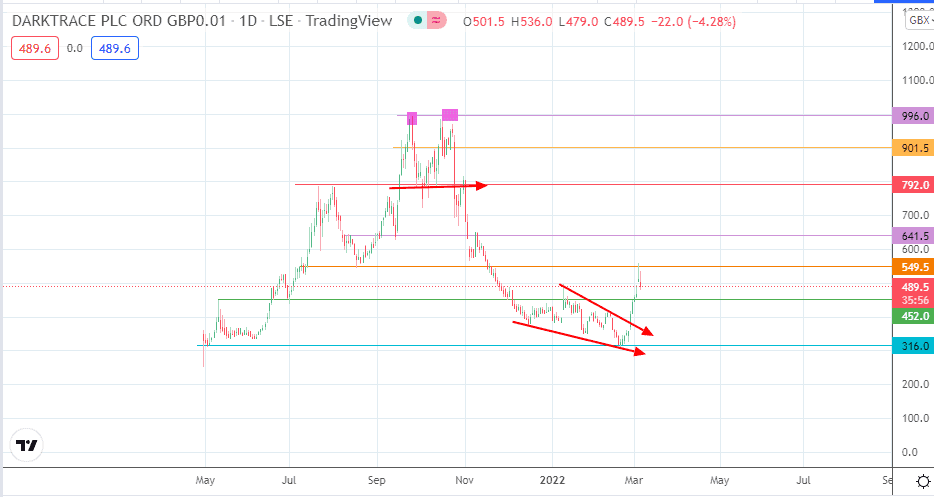 Follow Eno on Twitter.