The Crypto.com coin slipped 10% from a six-week high on Wednesday as bitcoin's drop below $60k triggered a wave of altcoin selling. Crypto.com coin (CRO) is marginally lower today at $0.185 (-1.09%), up a respectable +19% in October, and +215% year-to-date. The trading and credit platform's native CRO token currently holds a market cap of $4.7 billion and is the 41st most valuable cryptocurrency behind Elrond (EGLD).
Like many altcoins coming into yesterday session, CRO was breaking out to the upside. The coin burst through long-term trend resistance on Monday and tested the September high by Wednesday. Unfortunately for the bulls, BTC's slide to $58,100 derailed the rally, sending Crypto.com sharply lower and back below the trend line. Furthermore, as a result, an ominous double-top has formed on the daily chart, which could be significant. Encouragingly, BTC is stable at around $58,800 this morning which relieves the immediate pressure. However, until Bitcoin recovers $60k, it's vulnerable to a second wave of liquidations. In that event, the Crypto.com coin would likely extend yesterday's losses. Therefore CRO holders will be paying close attention to the market leader for signs of a recovery.
CRO Price Forecast
The daily chart shows that CRO has pulled back into the extended triangle pattern. The top edge of the triangle at $0.193 is once again the resistance. Above that, the September high of $0.209 is the next obstacle for the bulls. Successful clearance of $0.209 clears the path to the $0.25-$0.275 range.
Below the market, the 50-Day Moving Average (DMA) at $0.179 is the first support. The rising trend that makes up the bottom of the triangle at $0.166 comes after that. If Crypto.com coin loses the uptrend, the 100-DMA at $0.1617 and the significant 200 at $0.151 offer additional support levels. And below the 200 DMA, an extension to $0.100 is possible. Until CRO clears trend resistance and the double-top, a test of the support levels is the likeliest outcome. On that basis, I am mildly bearish, with a $0.150 price target. However, a close above $0.209 invalidates the bearish thesis.
Crypto.com Coin Price Chart (Daily)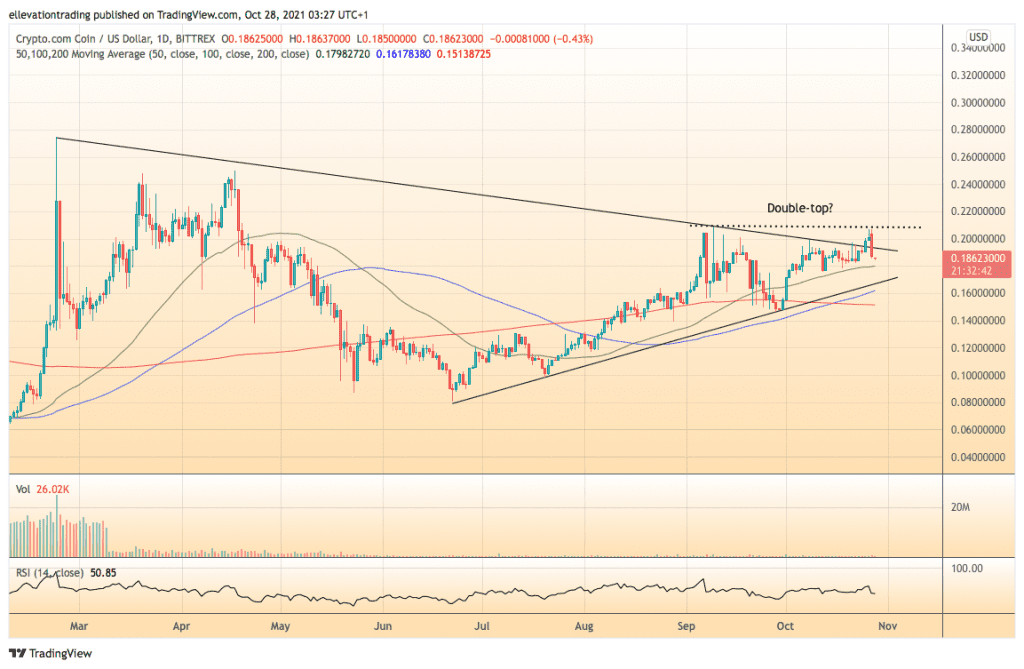 For more market insights, follow Elliott on Twitter.