Crude oil prices on the Brent benchmark ticked up on Wednesday, as the markets await an EU decision on whether to ban crude oil imports from Russia. NATO officials meet on Wednesday to discuss the possibility of ratcheting up sanctions on Russia, including banning Russian crude imports by the European Union. Russian crude accounts for 8% of crude oil sold in the international market. Therefore, a ban on Russian crude by the EU could produce further crude oil price increases.
Crude oil latest news
Also adding to the bullish sentiment on crude oil was the report by the American Petroleum Institute, which indicated a steep drop in crude oil inventories. According to the API, US oil stocks fell 4.28 million barrels. Wednesday will see the release of the Energy Information Administration's version of the report.
An analyst at Oanda has said that the recent highs seen in crude oil prices were a sign of upcoming supply constraints. OANDA analyst Jeffrey Halley believes that reduced crude oil output from Russia due to a reported reduction of outflow from the Caspian Pipeline Consortium line and the drop in US oil stocks could produce supply constraints in the coming days. Halley has a price target of $100 for Brent crude and $120 for the Western Texas Intermediate (WTI) variety.
Russia continues to sell crude oil at a discount to India, the world's third-largest importer of crude, and China. However, other companies are pulling out of deals to buy Russian oil, with TotalEnergies being the latest to indicate it will block all Russian energy exports from its terminals. Brent crude oil is up 3.62% as of writing.
Crude Oil Price Outlook
Wednesday's uptick is challenging resistance at 119.76, site of a recent high seen on 3 March. If the bulls uncap this resistance, a push towards 126.42 (11 April 2011 high) looks likely. Above this level, the 7 March 2022 high at 138.03 and Brent crude's 7 July 2008 all-time high at 147.50 lie in wait as potential northbound targets.
On the flip side, rejection at the 119.76 resistance could lead to a pullback which retests 109.58 (3/10 March 2022 lows), with 106./11 and 100.19 standing by as potential targets to the south if there is a further price decline. The 25 February/16 March 2022 lows at 96.58 only becomes viable if crude oil prices decline below the 100.19 psychological support.
Brent Crude: Daily Chart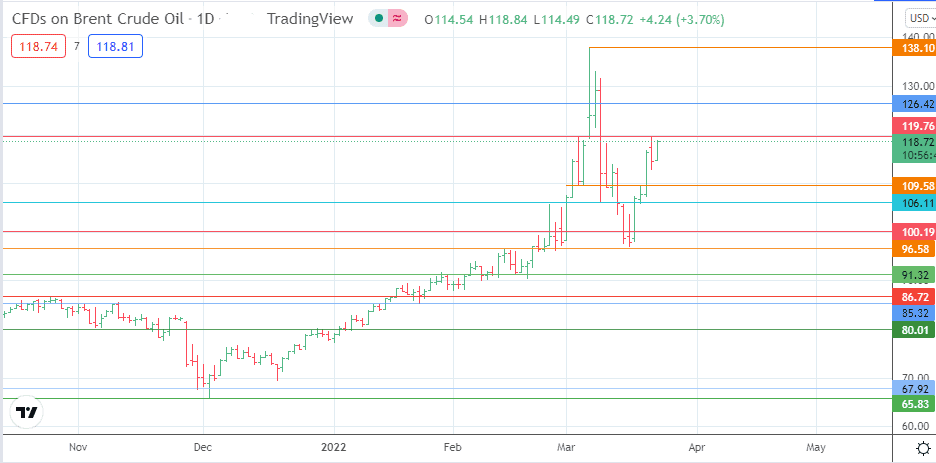 Follow Eno on Twitter.