Crude oil prices surged to the 5th straight day of strong gains after Goldman Sachs upped its price target to $90 a barrel amid weather-related concerns. Goldman Sachs' analysts predict that a colder-than-usual winter could spur greater demand, which could send prices up by $10 above the current benchmark the bank set. Crude oil prices on the Brent benchmark are up firmly on the day, rising 1.76% as risky sentiment returns to the market.
Also stoking supply concerns is the new Category 4 hurricane Sam, barrelling towards the US Gulf Coast. Production in this area has still not recovered fully, following the damage from Hurricane Ida in what has been a very active hurricane season.
Crude Oil Price Outlook
The bulls appear set to target the 80.00 price mark, having initiated a break above the 77.93 barrier. If the price action takes out the 80.01 psychological price level, 81.91 (15 October 2018 high) becomes a new target. Above this level, the 8 October 2018 high at 85.32 forming an additional resistance level.
On the flip side, rejection at 80.00 could initiate a profit-taking-induced pullback. This scenario would see 77.93 coming under scrutiny, this time as role-reversed support. If the bulls fail to defend this price mark, a decline towards 75.52 is a natural progression. Below this level, additional support comes in at 73.34 and 71.44, in that order.
Crude Oil Price (Brent) Chart: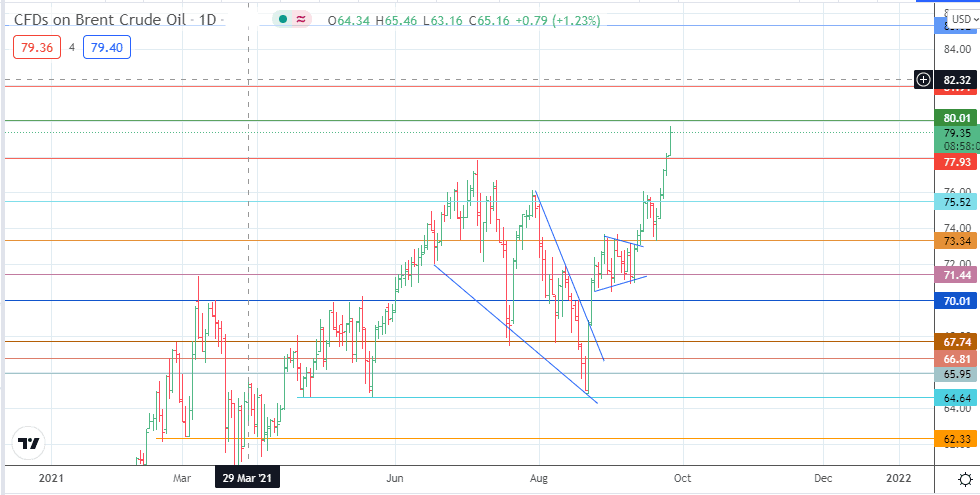 Follow Eno on Twitter.