Crude oil price scaled 6-week highs as a new hurricane hit the Gulf Coast. Hurricane Nicholas weakened significantly into a tropical storm but still carries the potential of dumping heavy rainfall in the Gulf Coast states of Texas and Louisiana, where previous damage from Hurricane Ida continues to render half of the region's oil production offline.
Commerzbank analysts have also noted the Gulf Coast shutdowns as a near-term driver of prices, even as oil platforms around the area were still being evacuated.
Also spurring upside action on Tuesday was the upbeat outlook for crude oil demand posted by the International Energy Agency (IEA). The IEA forecasts a rebound of demand by 1.6 million barrels per day in October. The agency also projects that demand will keep rising until the end of 2021.
Crude oil price on the Brent benchmark is up by 0.16% after losing some of its intraday gains.
Crude Oil Price Outlook
The breakout move from the triangle remains in progress but appears to be out of steam as the intraday high remains short of the 75.52 resistance target following the break of 73.34. 75.52 remains the price to beat for bulls. A successful run above this barrier opens the door for 77.93 to come into the picture.
On the flip side, 71.44 is the price mark that must give way for the pattern to be invalidated. This scenario allows for a correction towards 70.01, leaving 67.74 and 66.81 as potential targets to the south.
Brent Crude Oil Price (Daily)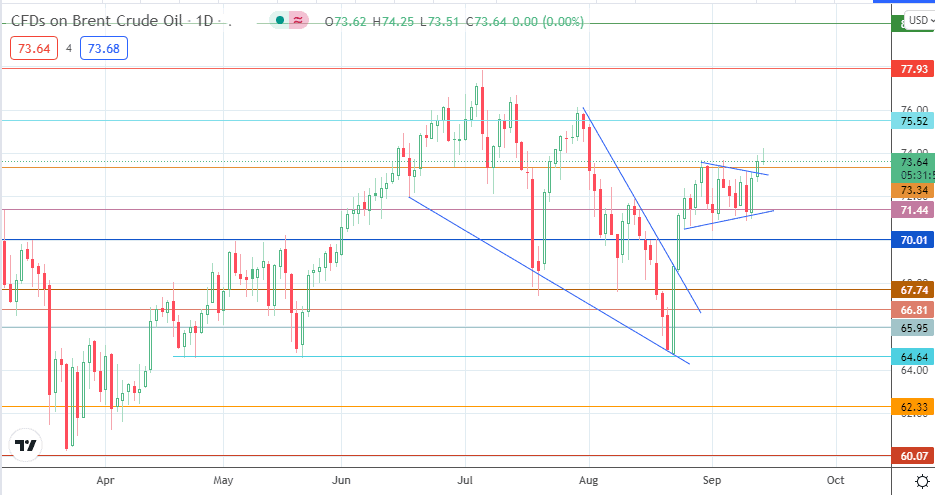 Follow Eno on Twitter.