Summary:

Coinbase recently commissioned a survey via Morning Consult, which had participation from 2000+ American adults.
The survey revealed that 20% of Americans hold cryptocurrencies.
The results also showed that 80% of the population believes that the financial system is unfair.
67% of the crypto holders agreed that blockchain and digital assets are the future.
A recent Coinbase survey has revealed the views of Americans about cryptocurrencies and the global financial system. According to the survey, a vast majority of Americans own digital assets. Furthermore, an overwhelming majority is unhappy with the global financial system due to the unfair distribution of wealth.
The survey was initiated by Coinbase and conducted by the business intelligence firm Morning Consult. During the survey, which was conducted in February 2023, more than 2000 Americans shared their views.
What Is Coinbase?
Coinbase is a US-based one of the largest cryptocurrency exchanges in the world. It provides crypto trading services to users with a very simple and beginner-friendly UI. Coinbase IPO took place in 2021 and the company was valued at $70 billion at its peak. During the much-anticipated IPO, Coinbase stock was listed on the Nasdaq exchange with the ticker symbol NASDAQ: COIN.
The results of the latest Coinbase survey show that 20% of Americans currently hold crypto. The percentage is even higher in people of color. It was also revealed that 80% of the American population believes that the current financial system only serves the rich. The survey also showed that 67% of the correspondents opined that the financial system needs a change or a complete overhaul.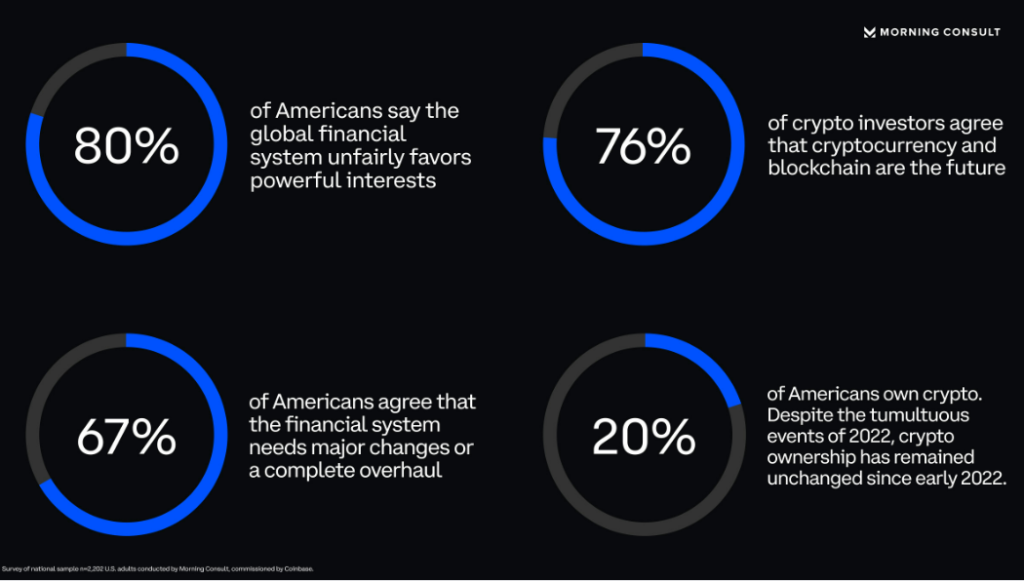 Coinbase Survey: 20% Americans Hold Crypto
Despite the ongoing crypto bear market, Americans still remain optimistic about the future of underlying technology. Coinbas survey conducted in February 2023 also found that 20% of Americans are still holding crypto. Out of these, 76% of holders believed that the blockchain and cryptocurrency have a bright future.
One surprising thing in the survey was that the percentage of crypto holders didn't drop from its peak in 2022. Moreover, a vast majority of the people unsatisfied with traditional financial system opined that crypto could play an important role in society.
Following this survey, Coinbase also announced to invest in an educational campaign aimed at Americans. The campaign will inform Americans about the role that crypto and blockchain can play in the development of the modern financial system. Coinbase Layer 2 blockchain network was also launched this week as a result of the company's efforts to increase adoption.