The Coinbase share price has suffered a 4th day of losses as shareholder rights litigation firm Schall Law Firm announced a class-action lawsuit against the Coinbase Global exchange.
The lawsuit stems from what the law firm deems as security violations in its April 2021 initial public offering (IPO). To this end, the law firm has sent out a 7-day deadline to affected shareholders wishing to join the lawsuit to come forward.
The lawsuit alleges that Coinbase needed a lot of cash injection and hid its actual financial state from the public pre-IPO. The company's finances became publicly available only when the company had listed, leading to initial losses.
Coinbase suffered its most significant daily loss on its listing day and eventually fell from a high of $429.54 on April 14 to $208.00 on May 19 2021.
Coinbase Price Prediction
The Coinbase share price daily candle has found support at the 239.29 price mark. Extension of the bounce allows the price to aim for the 250.92 resistance, which is the intraday high. If the Coinbase share price breaches the ascending trendline, 270.79 becomes available. 282.47 will become an additional barrier that must be uncapped before the August 11 high at 293.72 becomes available.
On the flip side, 223.29 becomes the new target for bears if 239.29 breaks down. We also see 208.75 serving as an additional price target to the downside once bears can overcome the support at 223.29.
Coinbase Share Price (Daily) Chart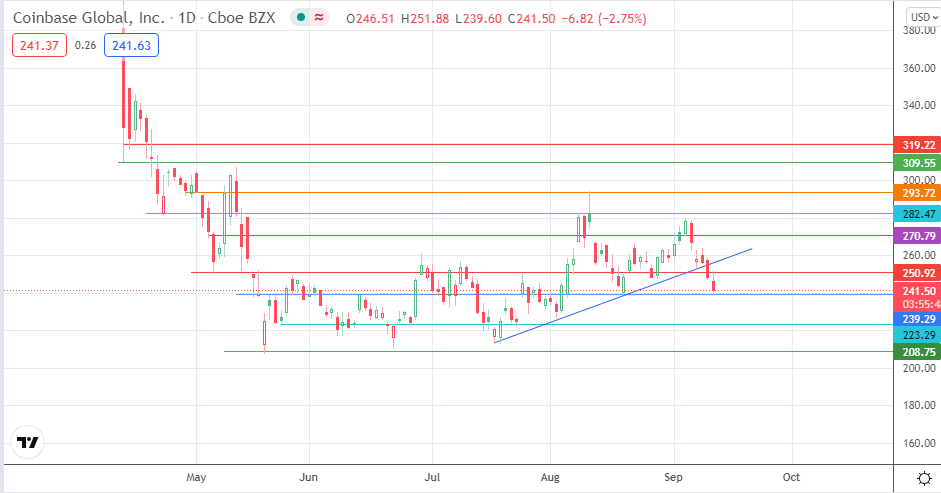 Follow Eno on Twitter.