The Centrica (CNA) share price is down 0.44% on the day but retains its bullish bias in the overall trend picture as traders decided to unwind some of their long positions this Tuesday.
Energy prices and stocks of energy companies like Centrica have ridden a bullish wave in recent times on the back of the Russia-Ukraine war threat. So far, there has not been much military aggression on Russia's part, even as tensions remain high.
Centrica Share Price Local News
On the local scene, Centrica's subsidiary company British Gas says it will secure its customers' advance deposits to the tune of $400m to protect them from market shocks. According to a company press release on 18 February, the funds are to be segregated. The move comes amid the collapse of several gas companies that used customers' funds to fund the rising cost of operations as energy prices soared worldwide.
Centrica's British Gas is also set to implement an increase in tariffs on 1 April, following an upward adjustment of the price cap by the UK energy market regulator, the Office of Gas and Electricity Markets (Ofgem). The increase will affect only customers on a variable tariff structure.
The Centrica share price is coming off a resurgence that started in 2020. The rise in energy prices has benefitted the stock well, and it is now trading at 2-year highs and pursuing a touchdown at the 80p mark.
CNA Share Price Outlook
The price is in the corrective phase of the impulse bullish wave and has met support at the 75.50 price mark. A bounce off this level continues the bullish trend and puts the CNA share price on course for a brush with the 79.88 resistance mark. 82.18 becomes available if the bulls overcome 79.88 (20 February 2020 high), and 85.78 (12 December 2019 and 10 January 2020 lows) is another barrier that lies in the path towards the 90.00 psychological resistance target.
Conversely, a breakdown of the 75.50 support level brings the Centrica share price to the ascending trendline. Loss of integrity of the trendline makes 69.60 available as a new support target. Below this level, 65.18 (20 December 2021 low) and 58.32 (10 May 2021 high/25 October 2021 low) are additional targets to the south. In addition, there is intervening support at the 60.00 psychological price level, which must give way before 58.32 becomes available.
Centrica: Daily Chart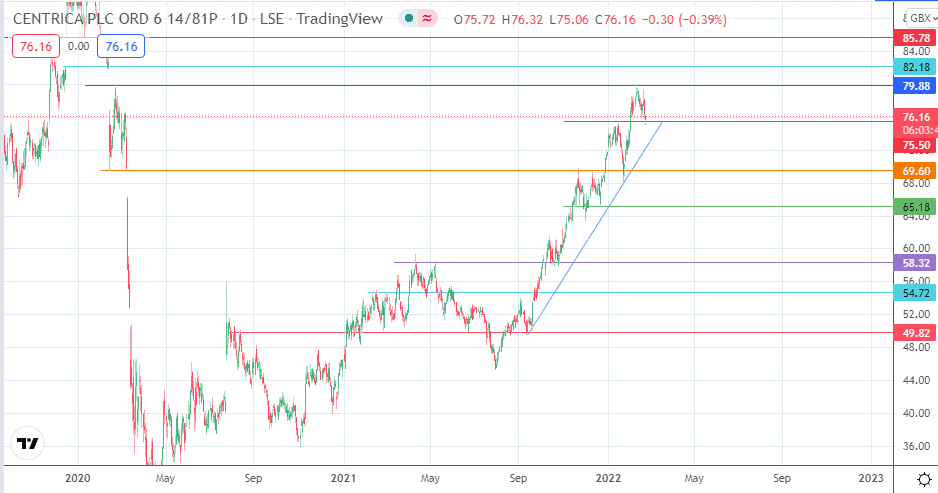 Follow Eno on Twitter.