The Cineworld share price is starting a long road to recovery after gaining 16.01% in the first week of trading in 2022. It is also up 5% this week as of writing as it tries to get back into investors' good books, following a near-apocalyptic crash in November and December 2021 due to the outbreak of the Omicron variant of COVID-19. A Canadian court ruling that asked the company to pay 722 million pounds for breach of an acquisition contract also hit the stock hard.
The movie theatre chain hopes to recover the traction it was gaining in the third quarter of 2021 as the fears over the Omicron variant ease. Cineworld hopes that 2022 will bring more of the record-breaking revenues pulled in by the latest Spiderman movie series. Its appeal process against the Canadian court judgment is ongoing, and if it wins the appeal, investors who jumped ship are likely to get back on it.
Cineworld Share Price Outlook
The active daily candle is testing the support at 39.95. A strong bounce is required to send the Cineworld share price back to the 46.52 resistance mark. 56.01 and 60.26 are additional price targets to the north.
On the flip side, a decline below 31.72 allows the price action to dip towards 31.72. If this level gives way. 23.49 and 15.55 come into the picture as additional targets to the south.
Cineworld: Daily Chart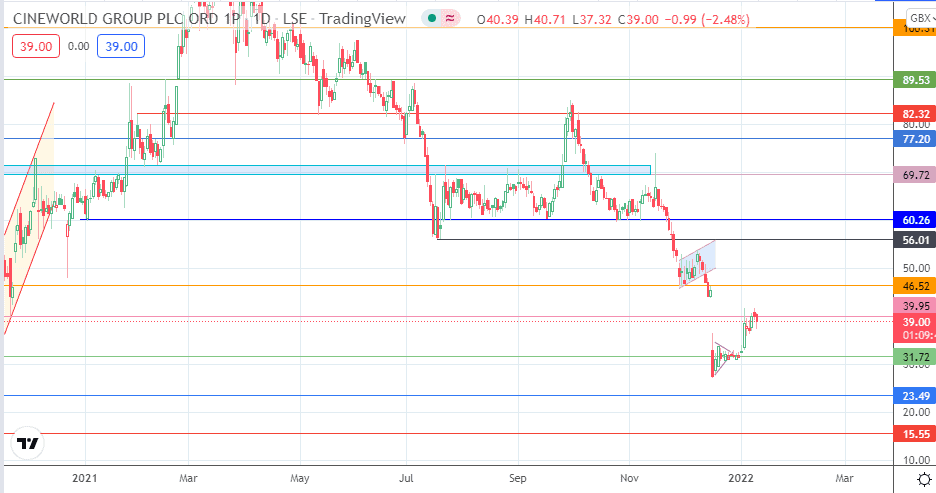 Follow Eno on Twitter.