Our Chainlink price prediction is on its way to flipping bullish as the price is gaining strength. LINK price has been in a severe downtrend since hitting $35 in November last year. The coin is now trading 86.4% below its May 2021 all-time high of $52.70. The ongoing slump in global speculative markets in general and crypto in particular, have quite adversely affected the Chainlink price action.
Most cryptocurrencies are trading at just a fraction of their last year's highs as the Bitcoin price has failed to find support. Chainlink price has also faced an unprecedented sell-off and now trading at $7.27. On 18th June 2022, the price plummeted to $5.41 as the Bitcoin price tagged $17,600. However, LINK crypto is now 34% up from that low.
According to official Chainlink news, the node software version v1.5.0 is available now on GitHub. Node operators can now download and install the latest node software for increased security and new configuration options. The new version also supports running multiple chains on a single node.
Since the DeFi explosion of 2020, Chainlink has become the backbone of the most well-known DeFi protocols. Thousands of Dapps rely on Chainlink oracles for price feeds and other off-chain data.
Chainlink Price Prediction
Technical analysis of the Chainlink price chart shows that the coin has been trading inside a falling wedge since November 2021. The price is finally showing some signs of strength as it is forming a double bottom. If Chainlink price breaks out of the falling wedge then LINK price might surge to $10.33 within no time. This level also perfectly aligns with the 0.382 Fib retracement level connecting the April 2022 high to the recent low.
It is also worth mentioning that this Chainlink price prediction would be invalidated in case of a daily closure below $5.30. Such an event could potentially trigger another bearish leg for LINK, sending it below $4.
LINK USD Daily Chart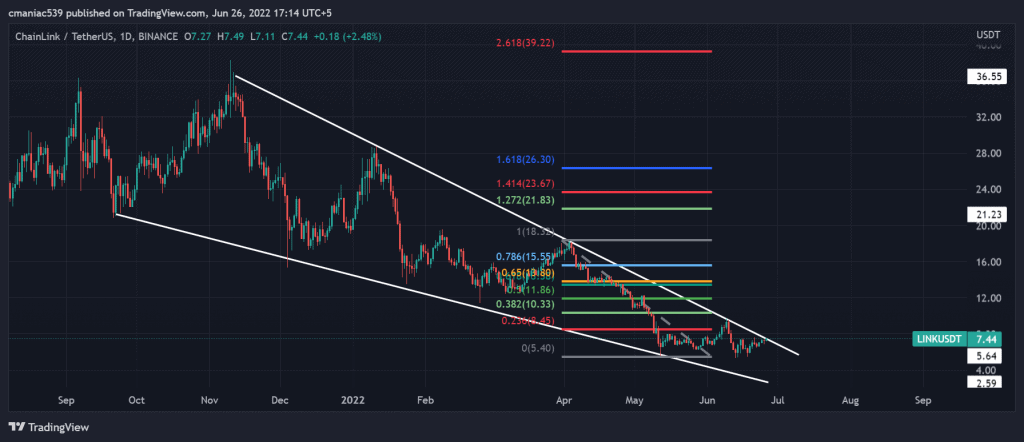 S&R Indicator
If you are trading in these tough market conditions then don't forget to subscribe to InvestingCube's S&R Indicator. The S&R indicator is giving a buy signal in case of a breakout above $7.61 with a short-term target of $8. Similarly, it recommends going short in case of a close below $5.28 which aligns with the invalidation point of our Chainlink price prediction. At the moment the indicator is neutral as the price is trading sideways.