The Centrica share price was sold off heavily this Monday, following Friday's downgrade of the stock. The previous update I provided on the outlook for the Centrica share price highlighted the impact this downgrade by HSBC would have on the stock. This correction was also expected as the technical picture on the daily chart, which featured a descending triangle, favoured a downside resolution. The chart shows this resolution, with the 5.96% intraday decline in the stock attaining the measured move's completion point at 72.08.
However, the sellers appear to be in total control, as indicated by the daily candle's lack of a lower shadow. This picture could show further selling momentum available to take the stock even lower, making the 72.08 support level vulnerable.
Centrica is the UK's largest gas chain owner, and its stock has been in the headlines lately following Ofgem's uncapping of the previous lid on energy prices that took effect on 1 April. The 1 April increase had raised prices from 1,277 pounds to 1,971 pounds. A new cap is due to be set in August; with Scotting Power forecasting it could be as high as 2,900 pounds. A 200-pound discount offered by the UK government has been described as grossly inadequate in many circles.
Here is the latest Centrica share price outlook.
Centrica Share Price Outlook
Today's intraday decline is marked by the daily candle's challenge on the 72.08 support level. If the bears break down this support level, the 69.60 price mark comes into the picture. Additional targets to the south include the 65.18 support (17 November 2021/21 December 2021 lows) and the 58.32 price mark (13 October 2021 low). There is also a chance of the low of 4 November 2021 at 62.22, forming an additional target between 65.18 and 58.32.
On the flip side, a bounce on the 72.08 mark favours a recovery, targeting 75.50 initially (23 February and 6 May lows). Additional northbound targets are found at 77.64 (the former lower border of the descending triangle) and the 79.88 resistance barrier (9 February and 6 April highs). 82.18 and 84.62 (25 March high) are futuristic targets to the upside which are presently only reachable if the Centrica share price transcends the 79.88 resistance.
Centrica: Daily Chart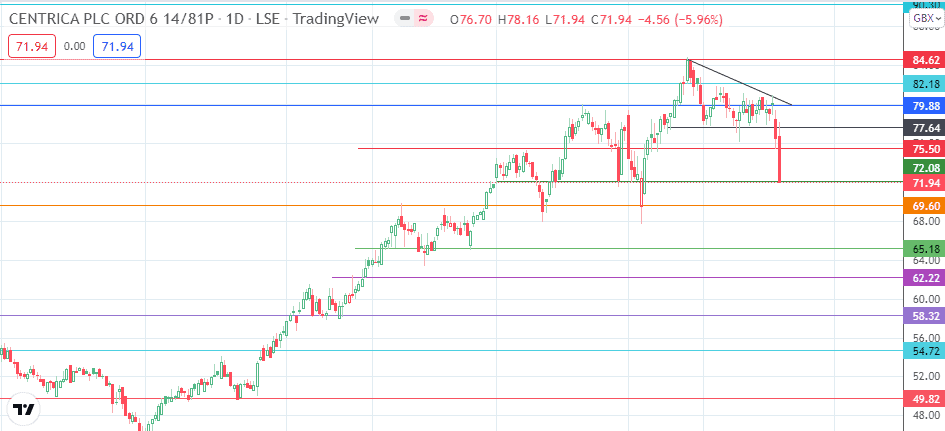 Follow Eno on Twitter.