After a strong showing in Thursday's trading session, the Carnival share price is on its way to completing three days of gains. The price move defied the insider sale of stock on 7 January.
Instead, investors seem to be applauding the extension of the elite service agreement that Carnival Corporation has had with Marioff, a water-mist fire protection technology maker. Marioff's fire protection technology is stationed aboard 75 of Carnival's cruise ships in its BluEdge Elite service agreement. The extension of this service is for an additional five years. It comes as Carnival Corporation prepares to let the rest of its ships back into the water after being buoyed by pandemic-related restrictions.
Completing the double bottom on the daily chart opened the gateway for the price ascent beyond the $20 mark. Three days of gains have followed, allowing the Carnival share price to push against a critical resistance just below the $23 mark. The Carnival share price is up 3.05% as of writing.
Carnival Share Price Outlook
The active daily candle has violated the 22.93 resistance level. However, an intraday pullback has truncated the breakout attempt. However, a 3% penetration close above this resistance allows for a potential move towards 24.00. 25.27 is an additional target to the north.
On the flip side, failure to break the 22.93 resistance allows for a decline towards 21.41. 20.52 is an additional pivot if the correction is deeper, while 19.61 stands as the neckline of the completed double bottom pattern and yet another potential target to the south if the price dips further.
Carnival: Daily Chart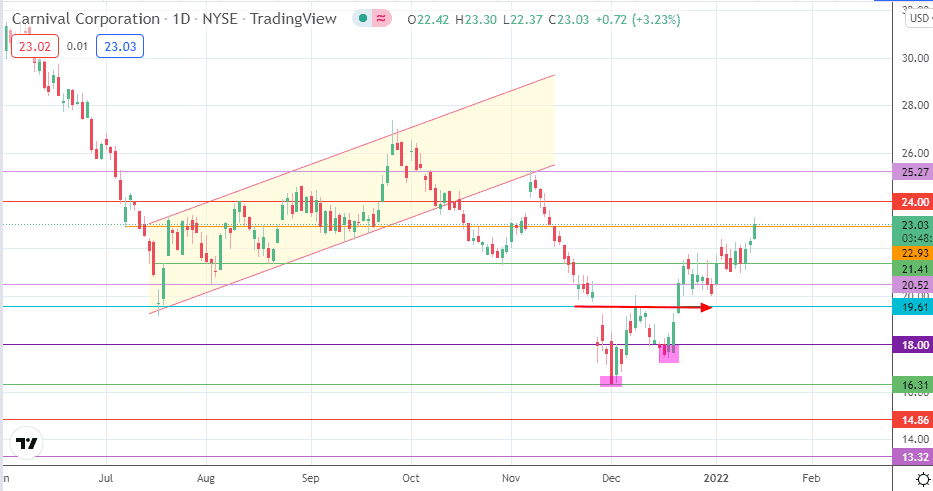 Follow Eno on Twitter.