The Internet Computer Price is recovering from last weeks brutal collapse. However, ICP is making hard work of it and struggling above $60. Even though Internet Computer Protocol (ICP) has climbed from Monday's $50.31 low to $60.29, it has a long way to go to erase last week's drop from $86.95. However, if ICP can punch through the resistance at$62.00, a run to $75.00 could be achievable.
ICP has been one of the worst-performing top-ranked crypto assets this year. When it was listed across multiple exchanges in May, the price was all over the shop. ICP commenced trading on the Binance exchange around $240 before spiking to a staggering $3,161. However, within two months, the Internet Computer price was trading at $27.60, and even though ICP has more than doubled since then, it's still 75% below its debut price and 98% lower than its all-time high. Although ICP is unlikely to set a new record any time soon, or at all, it does offer some interesting trading opportunities.
ICP Price Forecast
The four-hour chart shows clear bands of price support and resistance. Below the price, scale down support is seen between $60.00 and $50.00. Above the market, the Internet Computer price runs into supply above $75.00. This has created a nice trading range for short-term traders.
Currently, ICP is climbing out of the demand zone, and the price action looks constructive. However, a series of highs around $62.00 is offering some resistance. If the price clears $62.00, I expect an extension towards the supply zone at $75.00. Although below $62.00, ICP's fate is less clear, which could result in a failure to launch.
In that event, ICP could slide lower towards $50.00. However, as we have seen over the last month, that is when buyers step in. And therefore, if the price tracks lower from here, it may present an even better buying opportunity. And as long as $50.00 holds, the view remains. However, if Internet Computer drops below $50.00, the view becomes invalid.
Internet Computer Price Chart (4-Hour)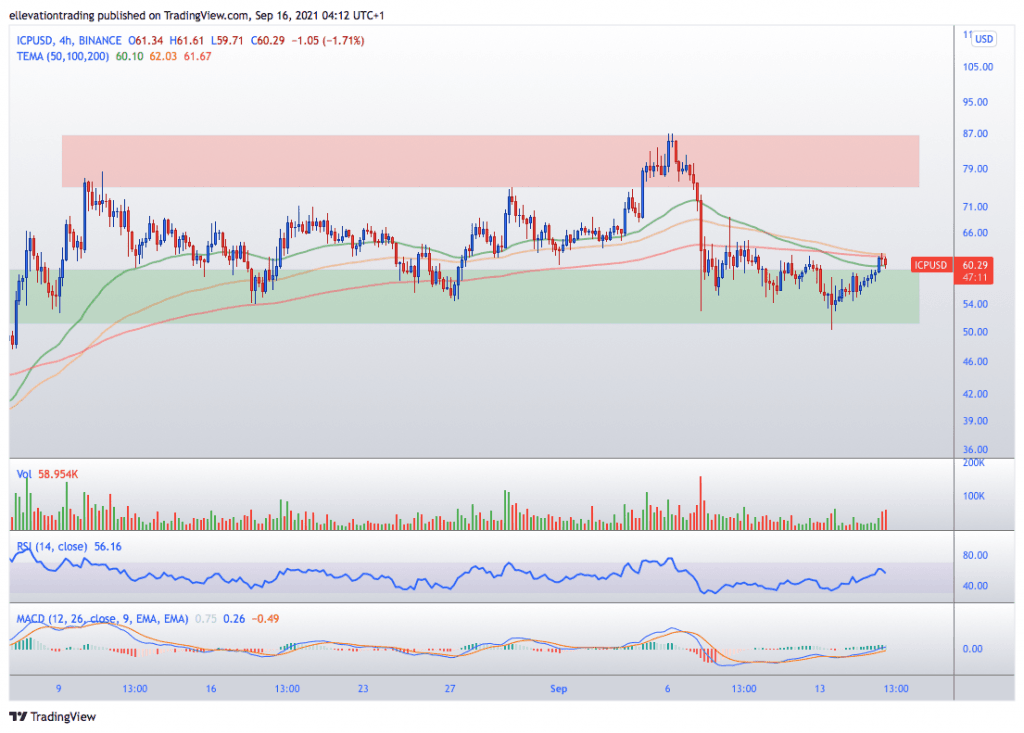 For more market insights, follow Elliott on Twitter.