The RBLX stock price is currently pushing off session lows and is now down 0.16%. After yesterday's losing effort, the uptick follows a recovery bounce from the 42.94 support. It is now on course to end lower for the third consecutive weak.
After touching off record lows on 14 March, shares of Roblox Corporation have only been able to register one week of recovering price action. This upside move stalled around the $50 mark. 
An insider sale of stock by Chief Financial Officer Manuel Bronstein triggered the relentless spate of selling, crashing the stock price from $73.71 to $48 in a single week in February. This was followed by a further two weeks of selling action before the recovery of the week of 14 March 2022.
As featured on CNN Money, a poll of 16 institutional analysts on the 12-month price target for the stock indicates a median price forecast of $62.50. This indicates a 40.4% upside potential from the current price. The price pattern on the chart may give some hope of this price target being met soon.
RBLS Stock Price Prediction
If the RBLX stock price prediction follows the pattern on the 4-hour chart, we should see a recovery from the current lows. This is because of the falling wedge, a bullish reversal pattern that should point to a price recovery towards 52.32 in fulfilment of the measured move.
The actualization of this move depends on the ability of the bulls to uncap the resistance at 48.48 (6 April high). If the recovery advances beyond the measured move's completion point, 57.09 becomes the next target to the north. A run to the 60.00 psychological resistance can also not be ruled out.
On the flip side, a decline below the 42.94 support (24 February and 7 April lows) favours a downside push that targets 39.71 (8/17 March lows). This decline invalidates the falling wedge pattern and could extend towards the 15 March low at 36.33. A further dip sends the RBLX stock price to record lows.
Roblox: 4-hour Chart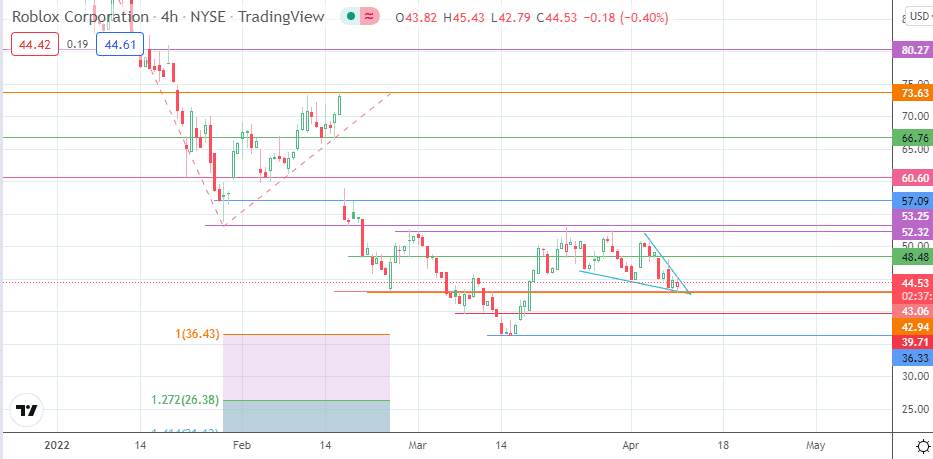 Follow Eno on Twitter.