The AAVE price prediction will take inspiration from the evolving pattern on the daily chart, which is that of a wedge pattern. This pattern's evolution follows a period of price correction, as the AAVE/USDT pair has cascaded from its 27 October high at 390.00 towards price levels that got to the 158.2 low seen on 13 December. 
Further fuelling the potential for price recovery is that several DeFi tokens (including Aave) have had a poor run of form in the last few weeks.
However, things may soon be looking up for AAVE, as Harmony intends to deploy AAVE v2 on its blockchain to expand its lending options to its growing userbase. Harmony wants to provide $5m worth of its native token (ONE) to incentivize early adoption and usage of AAVE on the Harmony blockchain.
Aave Price Prediction
Bulls may draw inspiration from the falling wedge, which is expected to break to the upside. This breakout move would seek validation from an additional clearance of the 183.00 resistance, targeting 205.2 and 224.8 in the first instance. The price objective from the wedge pattern is expected to be completed at the 251.2 resistance mark. 278.6 only becomes available if this objective is surpassed.
On the flip side, a breakdown of 150.8 invalidates the pattern. This may come from a breach of the wedge's lower border or a pullback after the bearish rejection of the breakout attempt at 183.0. The downside targets to this move are at 121.4 and 94.9 in that sequence.
AAVE/USDT: 4-Hour Chart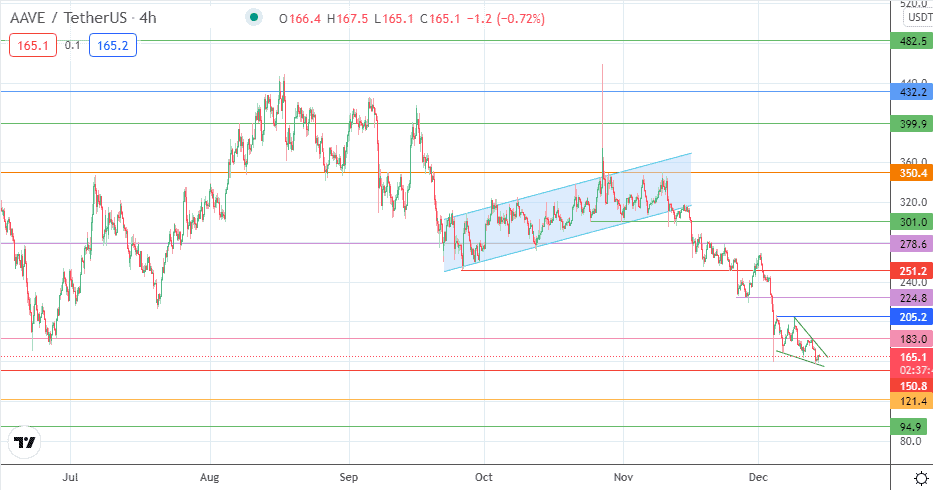 Follow Eno on Twitter.