Traders harbouring bullish BTT price predictions could start cheering soon, as the price activity on the daily chart shows a falling wedge pattern with its convergence point sitting on the 0.00297 support level. The recent correction captured in the wedge pattern interrupted the price recovery on the BTT/USD chart.
BTT price activity had started to recover on Jul. 9, following the steep drop that followed the market correction in May. However, BTT price began to face headwinds as the actions of regulators across the world put pressure on the BitTorrent price.
Last week, the Russian telecoms regulator said it would start blocking VPN providers to access information that it deemed censorable. BitTorrent was affected by this decision and started to face connectivity issues along with other VPN providers.
This was just the start of the downward slide in the BTT price, as the Chinese actions against cryptocurrencies provided more headwinds that allowed the bears to send BTT price down by 37% since the selloff began on Sep. 6.
BTT Price Prediction
The intraday decline has taken the price action towards the 0.00297 support line. However, the falling wedge with price action
at the apex suggests a possible resolution with an upside break. This move requires a bounce on the current support, with the breakout allowing price action to hit the 0.0038344 price barrier. The measured move will be completed at 0.00462 and requires uncapping of the 0.00383 resistance. Recovery of price activity beyond 0.00507 allows for the uptrend reversal to continue.
Conversely, a breakdown of 0.00297 invalidates the wedge and allows the bears to aim for the 0.00259 support. Below this level, 0.001927 forms an additional downside pivot. This support stands between the BTT price action and multi-month lows at 0.01157. 
BTT Price Chart (Daily)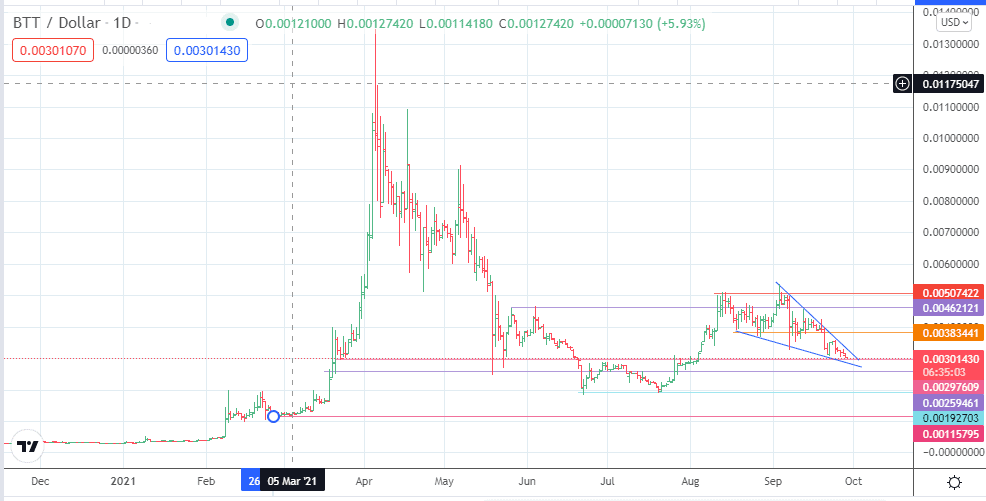 Follow Eno on Twitter.