The price of BTC to GBP has rebounded from a sell-off early this week but the futures market should dictate where we go next.
The market is bullish on Friday with Bitcoin up by 2.8% and Ethereum seeing new all-time highs. However, Friday is the day of expiry in the futures market and that could be pushing the market higher as bulls seek maximum payout from their long options positions.
Research from Glassnode continues to show a huge build in open interest in BTC futures.
"Open interest in CME futures contracts has increased by $3.95B over the course of October This is in part driven by the introduction of the BITO ETF product This represents a 265% growth in open interest since the end of September," they said.
This is strong growth but there is a risk of a big downdraft once those futures traders feel that the top of the market is in place.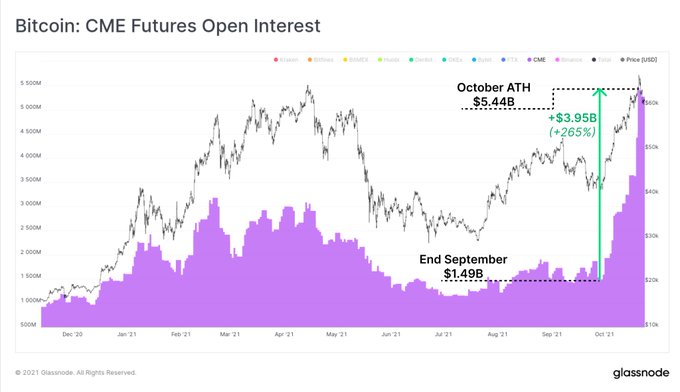 BTC to GBP Price Analysis
The price of BTC to GBP has bounced from the lows at 42,000 and we see it now trading at 45,160. The coin has resistance at the 46,000 level ahead of the all-time highs around 48,000. The 50 moving average on the downside comes in at 40,000, with the September peak around 38,000.
BTC to GBP Chart (Daily)