Following the attainment of new record highs on Wednesday, some profit-taking is now in progress as the BTC to GBP pair loses 1.91% as of writing. The previous day's price action saw the pair shed 5.41% after the early birds opted to cash out some positions in the uptrend.
The BTC/GBP pair has seen significant upside moves in recent days due to the approval of Bitcoin ETFs by the US Securities and Exchange Commission (SEC). This move makes Bitcoin available for trading on US exchanges as part of an exchange-traded fund, rendering it tradable as a stock. This also opens the doors for institutional money to flow into Bitcoin in a fully regulated environment, just as is the case for US stock trading.
BTC/GBP is expected to end the week higher despite the downturn of the last two days.
BTC to GBP Outlook
The correction in the BTC to GBP pair is now challenging support at 43917. A breakdown of this level allows the bears to aim for 42531. Additional downside targets are found at 40494 and 38075, with 36306 also coming into the picture if the decline is more extensive.
On the other hand, a bounce on 43917 allows the bulls to resume the recovery. A break of the 47201 resistance and the all-time high at 48426 allows the uptrend to continue. Such a scenario will see 50361 and 52719 becoming the barriers in record territory that serve as new targets.
BTC/GBP Pair: Daily Chart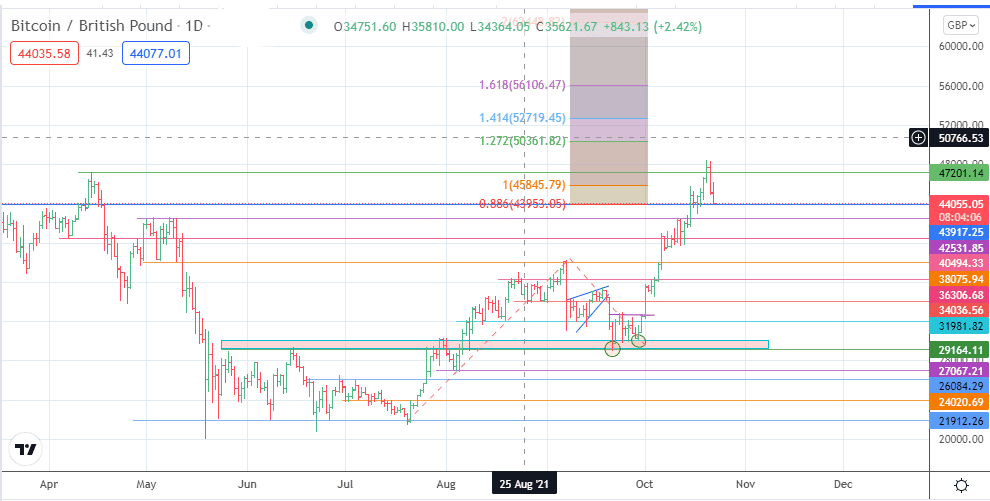 Follow Eno on Twitter.