The BTC to GBP paid continued the downward slide, losing 2.14% as of writing as the BTC/GBP pair posts a 6th consecutive losing session.
The recent strengthening of the British Pound and the weakening of Bitcoin due to the 2-day market selloff has triggered the slide. Bitcoin continues to face bearish pressure, despite whales acquiring large amounts of the coin at what are supposed to be bargain prices. However, market watchers believe that the recent FOMC minutes, which heightened expectations of up to 4 rate hikes in 2022 have taken away the attractiveness of cryptos as an alternative investment vehicle, even as USD-denominated assets start to garner attention from investors.
The pair was trading as low as 30285 on the day before the bulls forced an intraday bounce that has pared some of the losses.
BTC to GBP Outlook
The bulls have been able to force an intraday bounce off the 30100 support level. However, the bulls need to force a move above the 32213 resistance for the door to open towards 34036. Any further advance in price targets 36306, before 38221 comes into the picture as an additional target, being the site of the neckline of the failed rounding bottom pattern.
On the flip side, a descent below 30100 could be triggered if the 32213 resists the intraday bounce. This breakdown move would open the door towards new downside targets at 28912 (8 August 2021 low) and 27050 (3 August 2021 low).
BTC/GBP: Daily Chart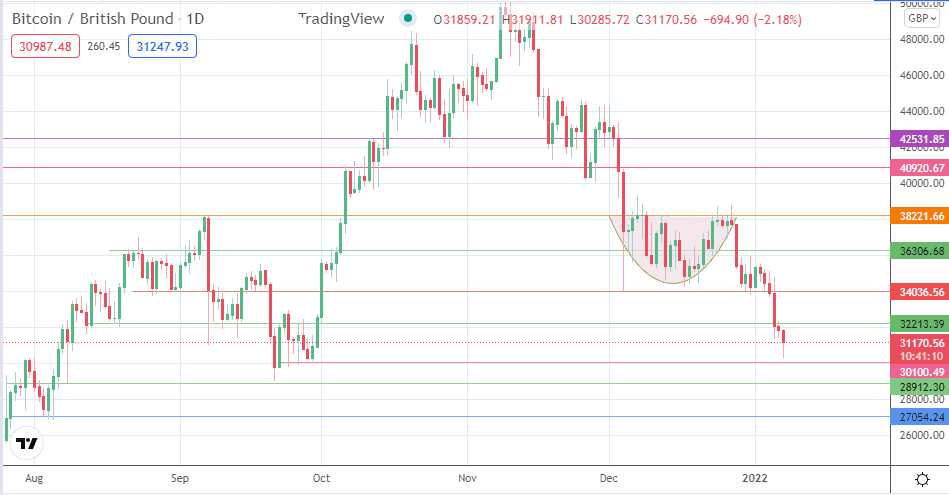 Follow Eno on Twitter.