The BTC to GBP rate is on course to end the week on a higher note, after selling pressure on the number 1 cryptocurrency eased. However, the bullish momentum remains weak, and the 3.58% weekly gain currently on the books is still a far cry from last week's relentless selloff that ditched the BTC/GBP pair by 15.06%.
The latest selloff was triggered by Russia's Central Bank proposals to ban all forms of cryptocurrency usage, trading, and mining within the country. But following some domestic backlash, authorities appear to have walked back from extreme measures, and indications are that the government may allow some form of regulated usage and mining.
This scenario has enabled Bitcoin to gain some ground but nowhere near the levels seen before the downtrend in November 2021. Bitcoin prices look set to end the week higher, with the BTC/GBP pair notching up 3.86% as of writing.
BTC to GBP Outlook
The weekly chart shows that the active weekly candle has formed a hammer, which rests on the 27054 support level.
Attempts at breaching the 28913 resistance were rejected firmly, leaving this price level as the barrier to beat for the bulls. A bullish outside day candle that achieves a closing penetration above 28912 could open the door for a run towards 30100. 32213 and 34036 are additional price targets to the north.
On the flip side, a decline below 27054 opens the floodgates for more selling, targeting 24477 initially before 21875 enters the picture as a potential downside target.
BTC/GBP: Daily Chart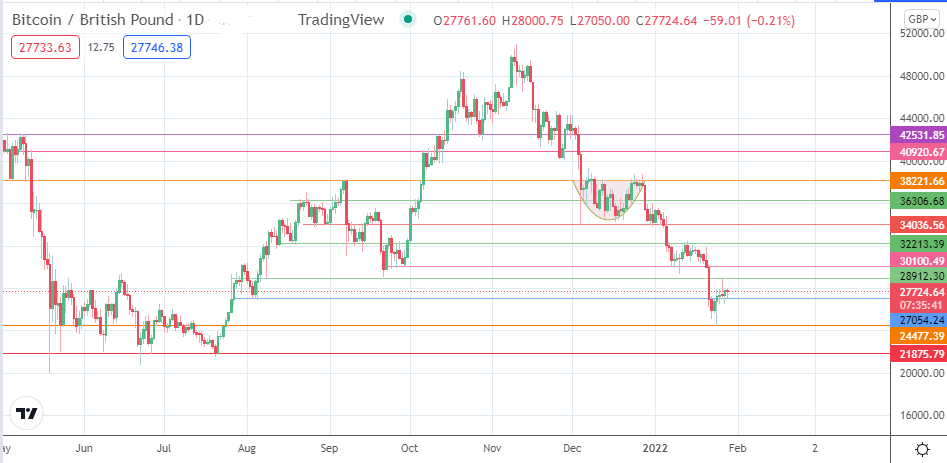 Follow Eno on Twitter.