The BT share price was given a much-needed vote of confidence by Deutsche Telekom, which own 12% of BT, said, "We see value in the company". The German Telcom's chief, Timotheus Hottges, said the under-fire British firm had solved "a lot of the issues" that were previously weighing down the share price.
The backing will come as welcome news for BT (LON: BT.A) shareholders. BT has underperformed the UK benchmark share index for the last three months. But it was a different story in the first half of the year. By June, the BT share price was up 54% year-to-date and changing hands at 206.7p. However, coming into last week, the shares had given back over 25% and registering a conservative 16% gain. As a result, a clear downtrend has formed, and the share price had slipped below all three major moving averages. However, last week's modest 1.50% gain may signal the start of a reversal.
BT Group Price Analysis
The daily chart shows that the top edge of a downward sloping trend line is capping the price at 161p. Additionally, the 200-day moving average at 159p is working alongside the trend to put a lid on the price. However, the price action over the last week is indicative of a bottoming process, which could soon lead to a breakout. If the BT share price climbs above 161p in the coming days, it would confirm the bullish development.
On a decisive close above 161p, BT could extend higher towards the 100-day average, which aligns with a series of highs in August around 177p. Furthermore, above 177p, technically, the door is open for a return above 200p. However, the trend is intact for now, and if the share price fails to clear 161p, its dominance will be reinforced. In the event, a return to the lower bound of the parallel channel at 140p is likely.
BT Share Price chart (Daily)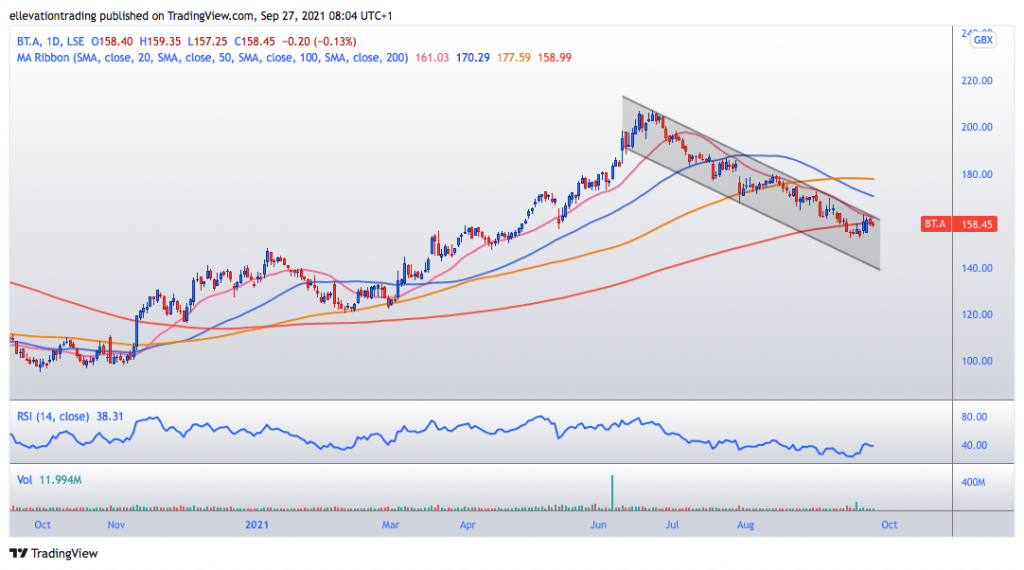 For more market insights, follow Elliott on Twitter.