The BT share price rose 1.95% after Deutsche Post DHL Group selected the company to digitalize its global logistics operations. BT and Deutsche Post DHL Group have signed an 8-year deal that will see BT using its latest technology to become an enabler of the modernized digital logistics operations of DPDHL Group in 27 countries worldwide. Both Anna Spinelli, who heads the procurement division of Deutsche Post DHL Group, and Bas Burger, the CEO Global of BT, have applauded the new partnership.
However, the upside move of the BT share price has been limited after it emerged a few hours ago that the company could face industrial action after the workers union rejected the latest pay offer. As per a Reuters report, the UK's biggest broadband and mobile operator faces a strike from the Communication Workers Union (SWU) after a pay rise of 1,500 pounds for its frontline workers was rejected by the union. 
The pay rise was staggered, with the lowest-paid scheduled to receive an increase of 8% while the top-level frontline workers would have seen a raise of 3%. This would have been the highest pay rise BT would have been making to its frontline staff in two decades. In rejecting the company's offer, the CWU said it had no choice but to prepare a statutory ballot proposing an industrial action.
Despite the impasse between the company and the CWU, the BT share price gained 2.23% and has made it into the top 5 gainers' list on the FTSE 100 index.
BT Share Price Forecast
The uptick in the BT share price completes the small double bottom at the 180.60 support. The active daily candle has met resistance at the 191.15 resistance level, thus completing the measured move from the double bottom. However, if the bulls break the resistance barrier, the 200.85 price mark (17 February 2022 high) becomes the next target. The 17 June/24 June 2021 double top forms another target to the north at the 206.95 price mark.
On the flip side, rejection at the 191.15 resistance level sends the price activity back to the 180.60 support level (17 January and 1 April lows). Below this level, additional targets to the south are located at 170.85 (6 December 2021 and 14 March lows). There are also support levels at 161.96 (16 December 2021 low) and 153.85 (26 November 2021 and 7 March 2022 lows).
BT.A: Daily Chart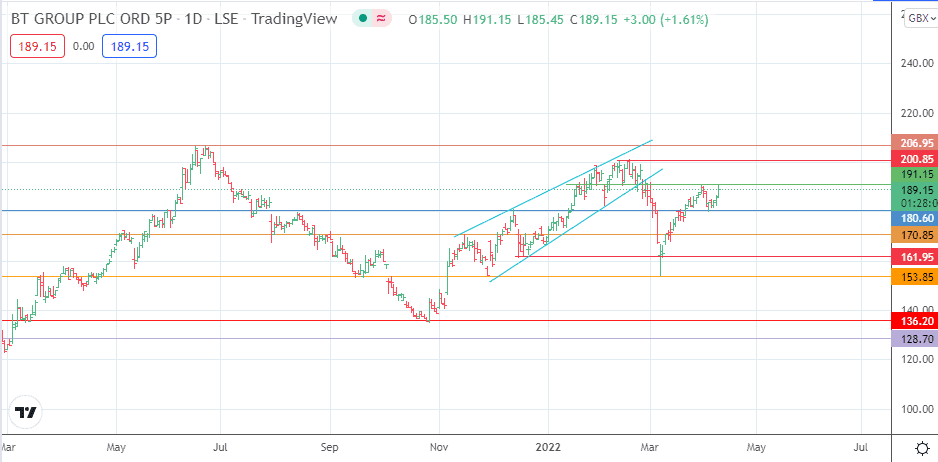 Follow Eno on Twitter.