Bullish Brent crude oil price predictions remained essentially unchanged after the US Energy Information Administration reported a drop in its crude oil stocks and strategic reserves amid heavier refining consumption and tighter global supplies. As a result, crude oil inventories fell by 3.4 million barrels, exceeding the market expectation of a decline of 2 million barrels. The figure was also more than last week's 2.5m-barrels drop off.
US strategic oil reserves also fell by 3 million barrels, as the US government released some of this into the market to cushion the effect of higher energy prices that have resulted from the Russia-Ukraine conflict. Oil prices are up as buyers neglect Russian oil, which is said to contribute nearly 8% of the total global output.
This week, a ramp-up in production from local refineries by 35,000 barrels per day upped capacity utilization by 1%. Refineries in the US are operating at their highest levels since the onset of the COVID-19 pandemic. There was no noticeable response to the report by crude oil prices, but the Brent crude benchmark retained its bullish sentiment for the day and traded 2.35% higher as of writing.
Brent Crude Oil Price Prediction
Wednesday's uptick is challenging the 114.03 price resistance (11/29 March highs). A break of this level is required for the action to advance towards the 119.76 barrier (3/22 March highs). Additional price targets to the north can be found at 126.42 and 138.03 (7 March high) but are only attainable if the bullish pressure picks up.
However, progressively lower peaks on the daily chart could indicate that the upside may have stalled. The bears would be seeking to push down prices below the neckline at 96.58, targeting a measured move towards the 85.32 price support. This action would require the bears to push prices below several pivots, including 109.58 and 106.11, before 100.19 enters the picture. The fundamentals currently do not support such a big downside move, and the easing of tensions on the geopolitical front would favour this.
Brent Crude: Daily Chart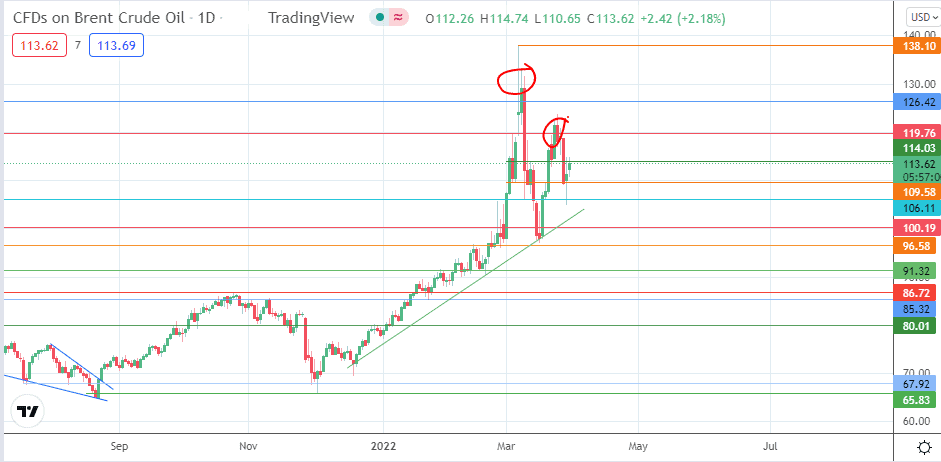 Follow Eno on Twitter.