The Breedon share price got a reprieve on Thursday as the bulls overcame the bearish pressure of the last few days to keep the price in green territory. The 2.33% uptick in the stock resulted from a late rally after the bears held sway earlier in the day's trading session.
The Breedon Group had announced upbeat earnings results in March, with a statutory revenue increase from £928.7 million in 2020 to £1.2 billion in 2021, with a pre-tax profit of £114 million versus £48.1 million in 2020. The company also announced a dividend of 1.6p per share, even as its 2021 operating year showcased record trade volumes.
The company also says it has fully integrated its Cemex acquisition and was confident in hitting targets. The dividend payments would be made to all shareholders on its register at the close of trading today 21 April 2022, with payments slated for payment on 20 May. 
Institutional investors have set a 12-month Breedon share price target at 89.03p. This gives the stock an upside potential of 12.26%. This forecast provides a limited upside for the stock, even as it trades within a bearish pattern.
Breedon Share Price Outlook
The Breedon share price is trading within the confines of the descending channel. The price bounce has set the bulls on course to target the 80.3 resistance (2 September 2020 and 12 April 2022 highs). A break of this resistance clears the path towards 83.6 (12 August 2020 and 31 March 2022 highs). A price advance beyond this point must also take out the channel's upper border to push towards the 90.4 resistance (9 February 2022 high). 95.3 and 102.2 are additional barriers that are out of reach currently.
On the other hand, rejection at 80.3 puts the price up for a retest of the 75.8 support level (21 July 2020 and 3 August 2020 lows). If the bears break down this support, 68.3 (6 October 2020/30 October 2020 double bottom) provides the next possible harvest point for sellers. The 27 March 2020 low at 62.8 is another price target to the south.
Breedon: Daily Chart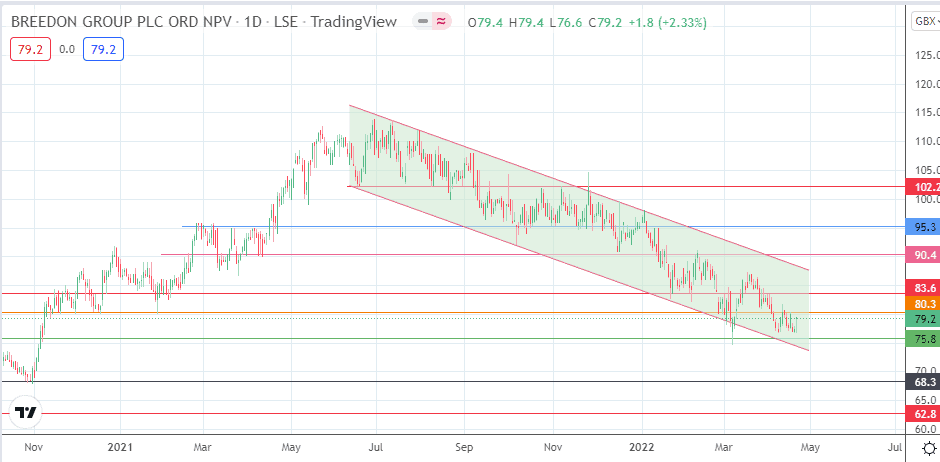 Follow Eno on Twitter.