Investors sent the BP share price slightly lower this Wednesday as crude oil supply began to top demand amid a rise in the Omicron COVID-19 cases. Brent crude dropped slightly towards the $ price mark after the Internation Energy Agency (IEA) hinted at a demand pullback in December. The IEA also lowered its demand forecast and said it expected additional supply surpluses in 2022. It blamed the spread of the Omicron variant on the situation.
As expected, oil stocks took a hit from the outlook, and the BP share price fell 1.58% on Wednesday. The weekly report from the US Energy Information Administration (EIA) showed a shortfall in crude oil inventories that exceeded estimates. However, this shortfall did not sway investors in oil stocks from adopting a bearish sentiment.
BP Share Price Outlook
With BP having formed a top on the 1713.4 resistance level, the price could be setting itself up for a further decline. This decline will be triggered by a breakdown of the 1587.0 support level (and the ascending trendline by extension), targeting a lower low that touches off the 1521.6 support. The 1483.2 and 1459.8 support targets enter the picture if the decline extends towards the 20 September low at 1415.4.
On the flip side, a bounce on the 1587.0 support targets the 1628.2 resistance barrier. If this barrier gives way, the bulls can attack the double top at 1713.4, with 1785.4 and 1833.4 becoming more visible if the bulls uncap the topping resistance. This move would invalidate the bearish outlook.
BP: Daily Chart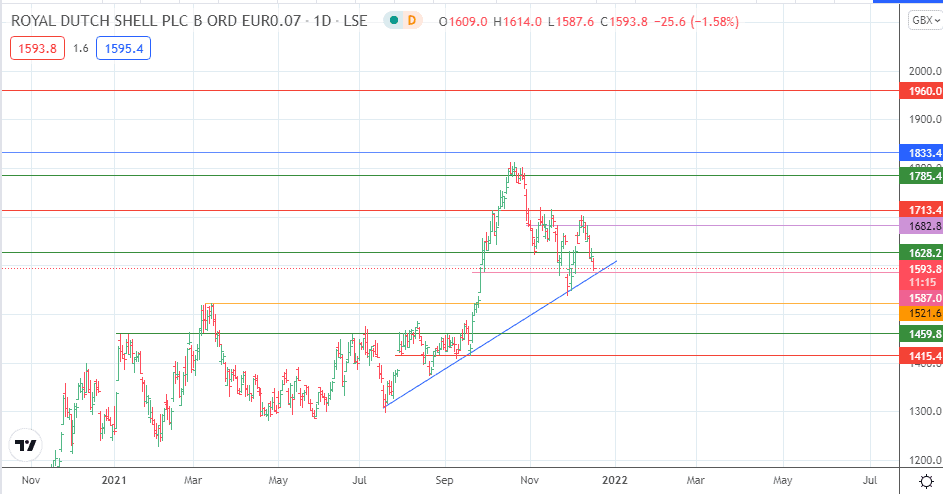 Follow Eno on Twitter.