The Boohoo share price sank 3.5% to a six-week low on Monday, as troubles for the under-fire online fashion retailer pile up. Furthermore, another day like yesterday and Boohoo will be at its lowest price this year, breaking down below an important trend line.
British e-commerce company Boohoo Group Plc (LON: BOO) has had a tough time recently. Since the start of the year, the share price has lost more than 25%, putting BOO more than 40% adrift from its June 2020 433.5p high. As my colleague wrote last week, there are several reasons why BOO has struggled this year. growing competition from low-cost rivals and increasing labour costs have weighed heavily on the price. Not forgetting the fallout from the scandal surrounding the conditions at some of its suppliers' factories. Although, in fairness, the retailer has made necessary adjustments and cut many of the questionable sources from its supply chain.
Nonetheless, the Boohoo share price continues to underperform the market, and is in danger of increasing that period of underperformance.
BOO Price Fortecast
The daily chart shows that since May, Boohoo has been capped by the downward sloping 50-day moving average, which is currently seen at 276.70p. Furthermore, this has forced the price lower to trend line support.
The trend line that links lows from July and October 2020, with the August 2021 low, is currently at 251.7p, just below the last trade of 254.7p. This is a major support level and therefore, if the Boohoo share price closes below 251.7p, it would constitute a breakdown. In that event, I expect an extension lower towards 200p.
An obvious target on the downside is the July 2020 low of 197.6p. In theory, after that, the March 2020 pandemic low of 133.1p is achievable. however, that represents a 47% drop from here. And unless the FTSE collapses or there is company sensitive negative developments, thats unlikely to happen.
If however, the share price holds trend support and turns higher, the 50 DMA is the first notable level of resistance. Furthermore, above that, Boohoo could extend towards the 100-day average at 299.8p.
Boohoo Share Price Chart (Daily)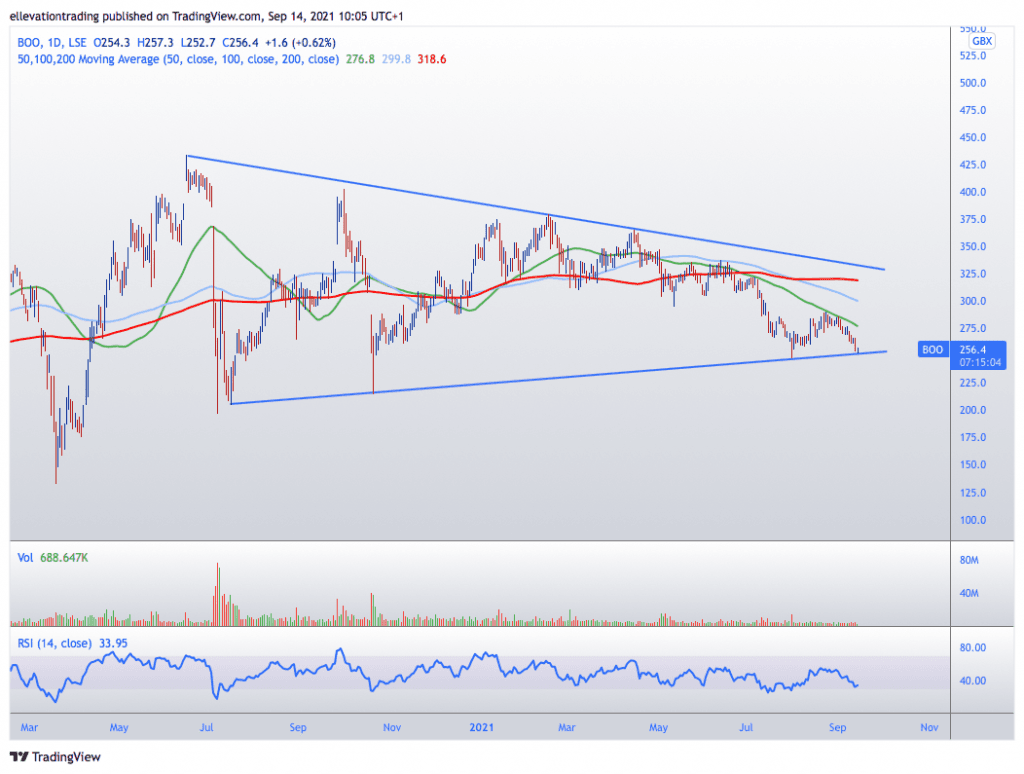 For more market insights, follow Elliott on Twitter.