The Boohoo share price unhinged meltdown continues even as signs emerge that the UK economy is recovering faster than expected. The BOO stock is trading at 90p, slightly above the year-to-date low of 85.78p.
The rise and fall of Boohoo
Boohoo is a leading British e-commerce company that revolutionized the fast fashion industry. The company manufactures its products primarily in Leicester and then sells them through mobile applications and websites. It was started by Mahmoud Kamani, one of the leading shareholders to date.
For a long time, Boohoo was one of the most favourite stocks in the UK. Investors bought the stock to bet that millennials will keep buying in its platform just as they bought in other fast fashion companies like Zara.
The company's growth accelerated during the pandemic as more people shopped at home. As a result, the Boohoo share price soared to an all-time high of 433p in 2020. At the time, the company was valued at more than 4 billion pounds.
The story changed when a British newspaper wrote about the working conditions in the firm's plants in Leicester. But, while Boohoo has made amends and promised to be better, its share price has not recovered.
Why BOO shares retreated
In addition to the crisis in Leicester, there are several other reasons why the Boohoo share price retreated sharply.
First, the company faces significant competition from other low-cost fashion companies like Shein and Asos. As a result, its growth has retreated substantially in the past few months.
Second, like all companies in the retail industry, Boohoo has struggled because of the ongoing supply chain issues that have affected its overall margins. While it manufactures in Leicester, it has global supply chains for raw materials.
Unlike luxury brands, Boohoo tends to struggle with pricing because of how competitive the industry is. Also, the company uses commercial planes to ship orders from the UK to other markets, making it more exposed to the recent travelling challenges.
Third, Boohoo has published two revenue and earnings warnings in the past few months. And finally, the rising cost of raw materials like cotton has affected its margins.
Will Boohoo shares recover?
The Boohoo share price has dropped by almost 80% from its all-time high. As a result, the shares are trading at a substantial discount from where they were in 2020. They have also underperformed the FTSE 100 and Asos.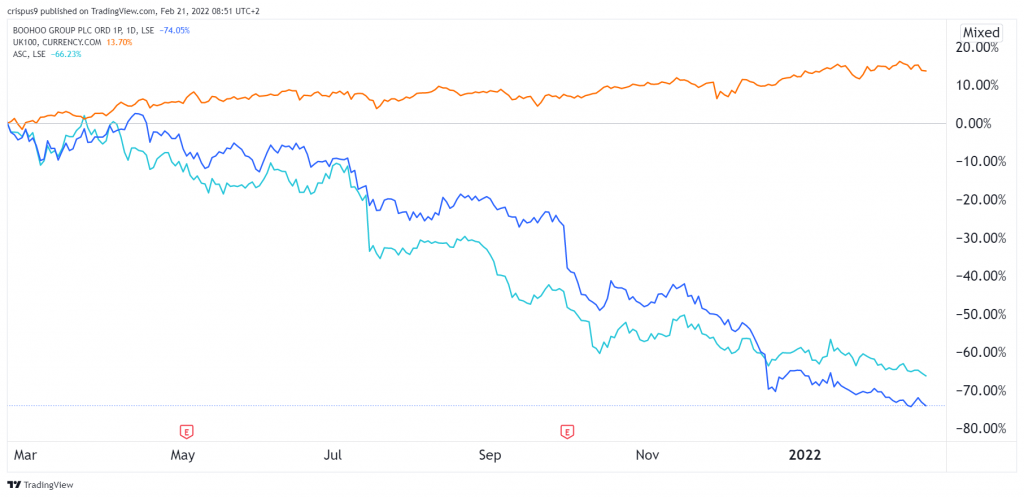 Valuation metrics like PE ratio and DCF also show that the BOO stock is undervalued.
There are also signs that Boohoo could be a good acquisition target by a private equity company or a larger competitor. A story by The Telegraph said that there were rumours that some suitors were circling the firm.
Recently, many American private equity companies have been making bids for UK companies, which they see as undervalued compared to their American counterparts. Some of the companies that have been acquired recently were Morrisons and Avast.
Is Boohoo a good investment?
Boohoo faces multiple challenges, as we have seen above. First, its cost of doing business is rising, and it is having a hard time competing with the rest of its peers like H&M and Asos have a bigger scale.
Also, analysts are a bit pessimistic about the stock. An analyst at Shore Capital recently downgraded the stock from 345p to 245p. He argued that investors need to be getting in now before signs of improvements emerge.
Therefore, there is a likelihood that the Boohoo share price will be at a better price in the next five years than where it is today.
Boohoo share price forecast 2022
The weekly chart shows that the Boohoo share price staged a major rally starting from January 2015 when trading at about 20p. After that, it rallied and reached an all-time high of 433p in 2020, meaning that it rose by almost 2,000%. 
Recently, however, the stock has moved below the 78.6% Fibonacci Retracement level. It has also moved below the 50 and 25-week moving averages, while the Relative Strength Index (RSI) has been in a bearish trend.
Therefore, while the stock will likely keep falling in the near term, there is a possibility that it will rebound later in 2022