Bonk price has recoiled after having a spectacular start of the year. The Shiba Inu-inspired token has crashed to a low of $0.00000128, which was about 75% below the highest level in 2023. It has diverged from other popular cryptocurrencies like Bitcoin, Solana, AGIX, and FTX Token which have surged in the first few days of 2023. This Bonk crypto prediction will look at key details like what it is, its market cap, and its prediction for 2023, 2025, and 2025.
What is Bonk?
Bonk is a new cryptocurrency token that was started in December 2022 and became popular in January 2023. Its price surged in the first few days of the year, making it one of the top-performing coins in the world. As we wrote at the time, it was defying gravity in ways never seen since 2021 during the cryptocurrency mania.
Bonk was created to be a Solana alternative to popular meme coins like Shiba Inu, Dogecoin, Tamadoge, and Floki Inu. It had similar features, including its dog-themed qualities and community-focused features. According to its developers, they hope that the meme coin will play an important role in Solana's ecosystem in the future.
Bonk developers selected Solana at an important time. At the time, the SOL price was collapsing because of its exposure to FTX and Alameda Research.
What are Bonk's tokenomics
Tokenomics refers to the unique characteristics that make a crypto token valuable. It includes features like fees, its distribution, its inflation, distribution, and its supply mechanisms. Any good cryptocurrency must have tokenomics in its features. For example, Bitcoin's tokenomics calls for a supply limit cap of 21 million BTCs. 
Bonk's white paper showed how its tokenomics will be. First, 50% of the token's total supply went to the Solana community. The community includes Solana NFT collections. Early Openbook traders, Solana artists, and Solana developers. Other tokens went to BONK DAO, initial liquidity provision, marketing promotions, and early contributors.
You can read more about this in Bonk's whitepaper.
Latest Bonk crypto news
As a relatively new cryptocurrency, Bonk crypto has made several headlines. First, the creators decided to update their tokenomics. Initially. 5% of all BONK tokens was to go to future contributions and developments. After receiving some criticism, developers decided to change the approach and burned all these tokens.
Second, BONK burning has continued to increase. Data compiled by SolScan shows that billions of BONK Inu token have been burned. Burning is a way that reduces a token's supply and helps to create its value.
Third, Bonk has helped to boost activity in key Solana ecosystem dApps like Jitto and Orca. Indeed, Orca crypto price has surged as the volume of activity in its ecosystem has risen.
Bonk vs DogeBonk
A common question is what is the difference between Bonk and DogeBonk. The two tokens are not the same. In fact, they are significantly different from each other. DogeBonk is a hard fork of Safemoon, a meme coin that has moved out of favor among investors. DogeBonk pays users fees for all transactions done in its ecosystem.
Is Bonk a good investment?
We believe that Bonk is not a good investment. This conclusion is built on the lessons learned from other popular meme coins like Shiba Inu, Tamadoge, and Floki Inu. Historically, these tokens tend to surge after coming online and being listed by key exchanges. They then flame out and their popularity wanes. A good example is Shiba Inu, whose price surged in its first days and then moved out of favor among investors.
Also, we believe that Bonk has no utility, which makes it difficult to recommend it as a viable investment. Therefore, we recommend that you should trade Bonk instead of investing in it.
Read more: Bonk Price Has Rallied: History Suggests A Crash Is Coming
What is the future of Bonk?
Bonk's developers will likely follow into the footsteps of Shiba Inu and other meme coins. These dog-inspired tokens aim to create utility in a number of ways. For example, they create DeFi protocols where people can swap their tokens. Shiba Inu's developers created ShibaSwap. Second, they move into NFTs and other areas of the blockchain industry like the metaverse.
Bonk price history
Bonk had a super start of the year. In the early days, the token surged to an all-time high of $0.0000052, which gave it a market cap of over $150 million. These gains were short-lived as the token collapsed by over 80% to an all-time low of $0.00000072.
This price action was in line with that of other popular meme coins. As you recall, Shiba Inu price surged to a record high in its first days and then it lost its momentum. Other future gains were a bit limited and the token did not retest its all-time high.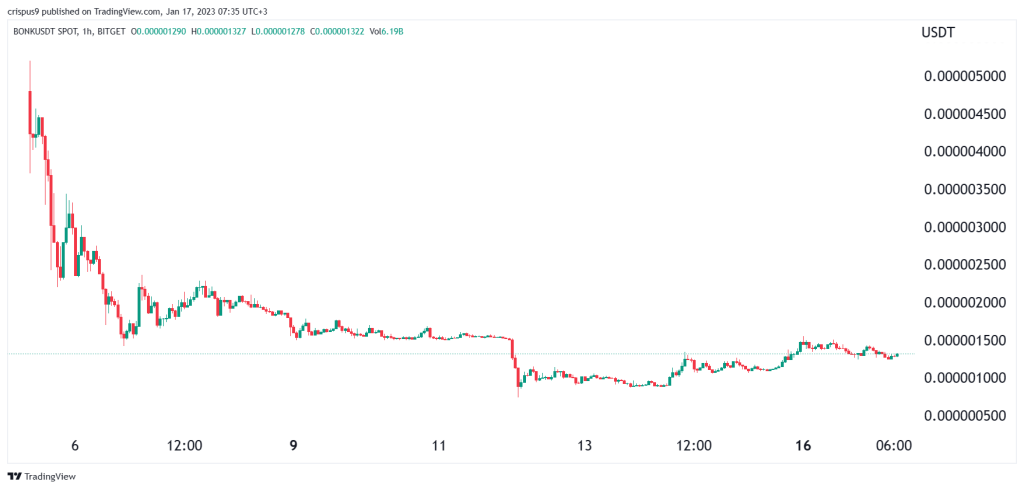 Bonk crypto price prediction 2023
So, what next for $BONK? Bonk and other cryptocurrencies will react to several important events in 2023. The most important of them will be the actions of the Federal Reserve. With inflation falling, analysts believe that the Fed will start easing its monetary policy. Some analysts believe that the Fed will even cut rates in Q4 or hint about cuts. If this happens, Bonk and other cryptocurrencies will likely rise. 
As such, if this happens, the next key level to watch will be at $0.0000025, which is about 73% above the current level. In a point above, I warned that Bonk is not a good investment. This does not mean that the token may not rebound. As we have seen before, many tokens without any major utility tend to rise at times.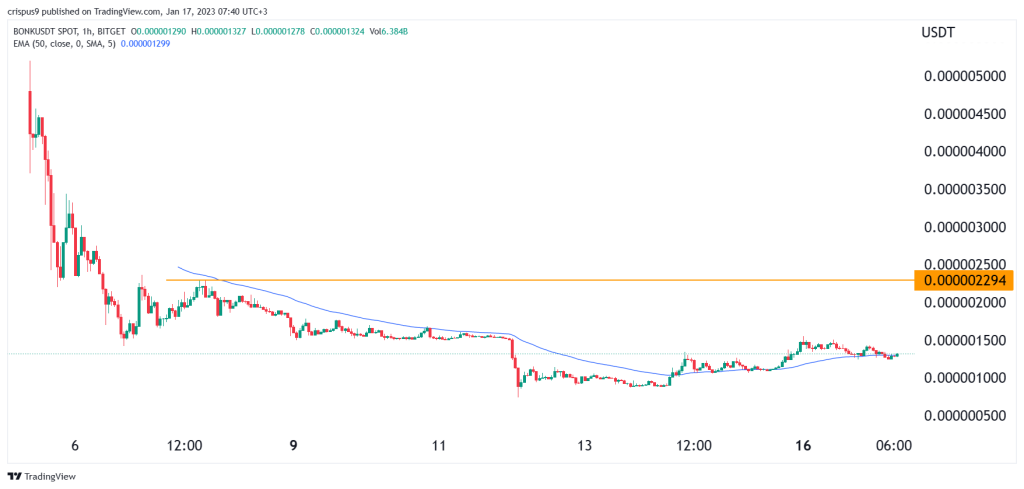 Bonk crypto forecast 2025
It is relatively difficult to predict where Bonk will be in 2025. This price action will depend on the broader performance of cryptocurrencies. If coins like Bitcoin and Ethereum will be much higher, then chances are that Bonk will be higher as well. On the other hand, if they will have recoiled, then Bonk will also decline. I believe that Bonk is a fad that will have faded by 2025. If this is true, the token will be trading at or below $0.0000050.
Bonk price prediction 2030
It is also not possible to predict where Bonk price will be in 2030. Like my prediction for 2025, I believe that the token will be much lower in 2030. We saw this well during the dot com bubble where the prices of most dot com companies crashed. The same will happen by 2030 for Bonk.