The BlackBerry share price has seen some slight uptick, despite the consensus of seven analysts that the stock will see a significant downside move. The mean target price set by these analysts is $8.29. At the current price of $10.17, there is considerable room for further downside movement.
This may explain why the BlackBerry share price has been unable to see significant upside movement, despite breaking the falling wedge pattern on the daily chart. The stock lost 14.3% in September as its reported earnings, which were better than the markets had expected, showed that it had failed to capture a large share of the pandemic-driven growth in remote computer security requirements.
The BlackBerry share price is up on the day at 0.77% but looks set to post a third successively lower high as demand dries up.
BlackBerry Share Price Outlook
The recent price action transformed into a falling wedge pattern. The break of this wedge has not gained enough momentum to target the 10.84 resistance. The move to this barrier can be achieved on a pullback and bounce to the 9.52 support. Completion of the measured move from the wedge pattern will be achieved if the price breaks past 10.84.
On the flip side, a decline below 9.52 targets 9.01, with 7.81 and 6.54 serving as the additional targets to the downside. This outlook negates the falling wedge pattern.
BlackBerry: Daily Chart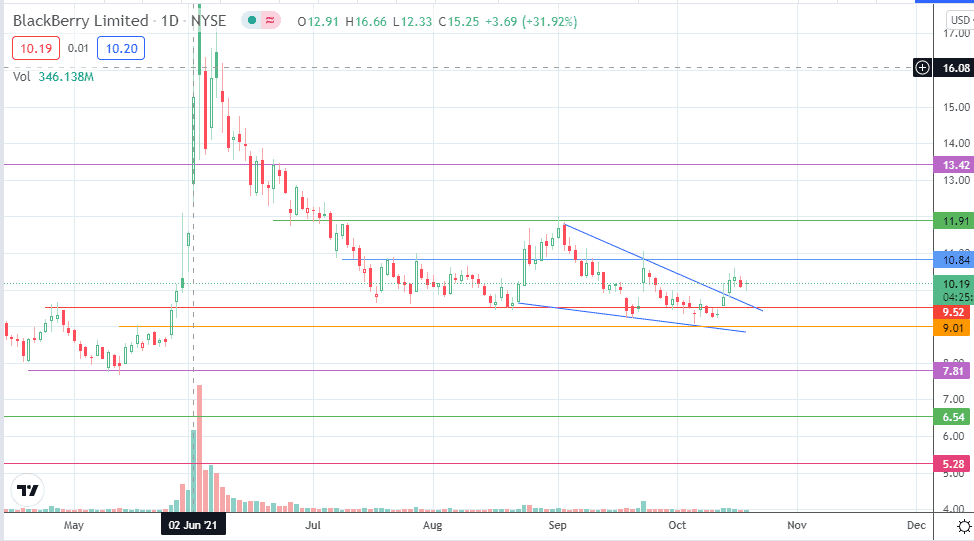 Follow Eno on Twitter.