The BlackBerry share price opened higher this Tuesday, as the bulls aim to break a 5-day losing streak. Things have been far from rosy for this stock, which saw its highest price in 6 months on 3 November before selling pressure resumed on the stock.
Investors are preparing for the next earnings call on 21 December. This is when the 3rd quarter 2021 results will be made public. This earnings call follows a consensus outlook of seven analysts that maintain a rating of "underperform" on the stock, with a projected decline of 8.0%. This puts the average target price at 8.30, which is in sync with the market price as of writing.
BlackBerry share price currently stands at 8.57, slightly down from the intraday high of 8.81.
BlackBerry Share Price
The 8.49 support line and the descending trendline form the pivots, allowing the bulls to launch a potential comeback from these points. A bounce at these points allows for a possible push towards 9.52. Above this level, additional barriers are seen at 9.97, 10.44 and 10.84. These barriers must give way before 11.91 can have a chance at becoming a new target for the bulls.
On the other hand, a decline below the double support brings 7.81 into the picture. The 13 January low at 7.36 and the 1 December 2020 low at 7.00 are potential downside targets that only become visible if there is an extensive price decline.
BlackBerry: Daily Chart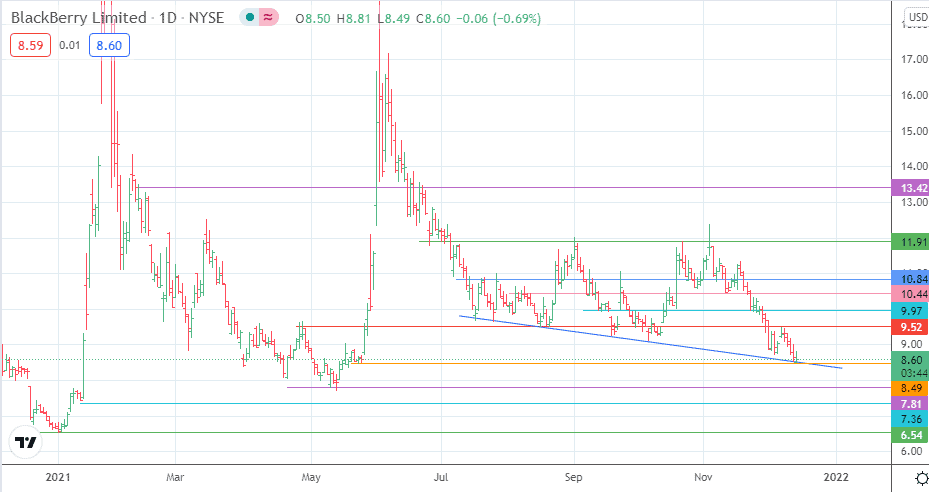 Follow Eno on Twitter.