The BitTorrent price has dropped 30% in the last week as the crypto market crumbles ahead of Wednesday dreaded FOMC meeting.
BitTorrent (BTT)is deep in the red for the third consecutive day, erasing most of the gain of last week's pump to $0.004198. The file-sharing platform's BTT token is -2.08% at $0.0059, around 35% below the highest level this month. The recent drop has wiped around $1.2 billion from the projects market cap, which stands at $2.75 billion, ranking it the 53rd most-valuable cryptocurrency behind Helium.
BTT more than doubled from the December 4th low after developers announced the BitTorrent Chain Mainnet would launch on December 12th. However, the positive reaction was fleeting, and BTT has since followed Bitcoin lower as traders brace for the FOMC to confirm the timeline and pace of tapering.
BTT Price Forecast
The daily chart shows the BitTorrent price is below the 50,100 and 200-Day Moving Averages, highlighting the poor long-term performance.
The current price action (putting tomorrow's central meeting to one side) BTT could slide to December's multi-month low of $0.002002. However, the FOMC's decision could swing the balance either way. The 200-DMA at $0.003463 is the first significant resistance level if the market reacts well. Furthermore, successful clearance of the long-term indicator clears the path to $0.005000.
Either scenario could potentially play out depending on what happens on Wednesday. Therefore, my current view is neutral to bearish, subject to change above $0.003463.


BitTorrent Price Forecast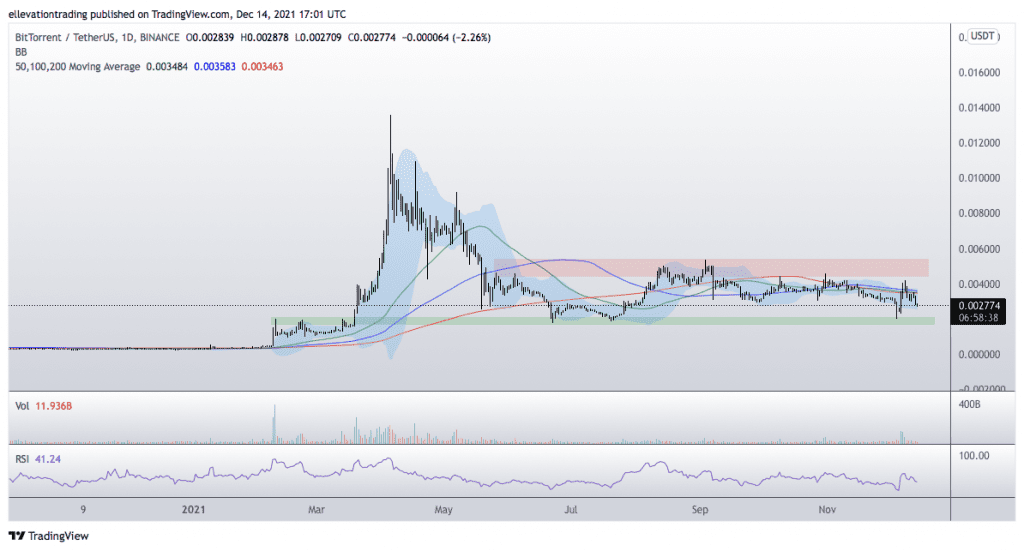 For more market insights, follow Elliott on Twitter.