Despite the correction in crypto market within last 24 hrs, our Bitcoin price prediction is still bullish for the short term. BTC price soared to $24,668 after the conclusion of July FOMC meeting. The global markets appeared to have the announced rate hike already priced in. Nevertheless, the price faced rejection from that level once again, now trading at $23,383.
Most cryptocurrencies are down within the last 48 hrs following the Bitcoin and Ethereum price action. After a slight recovery, BTC has gained 2% within the last 24 hrs. Altcoins are still taking cautious moves after the recent Solana hack.
The price appears to be gaining some strength BTC closed the week for the first time above 200 MA since dropping below it in June. The monthly candle also closed after a gain of more than 16%. Due to these factors, many analysts believe the Bitcoin price prediction would be bullish for August.
As per the Bitcoin news, the Finance Minister of El Salvador has said that the county still has plans to go ahead with the Bitcoin bonds. The whole crypto market experienced a surge in prices last year when Bitcoin became a legal tender in the South American country.
Bitcoin Price Prediction
Technical analysis of the BTC USD price chart shows multiple rejections from the $24,000-$24,600 region. A reclaim of this region might give the price enough momentum to target $26,380 in the short term. Currently, the price is retesting Monday highs which might act as a resistance. The $26,380 target comes from the 0.618 Fib retracement level by connecting the high and low of June 2022.
If the traditional markets remain stable, then Bitcoin price prediction of $29,200 also seems quite achievable in the near term. This target matches the Fib golden region (0.618-0.65 level) of the ongoing retracement from the March 2022 highs. It is also worth mentioning here that an acceptance below Monday's low of $22,850 might plummet the price to at least $22,200. There lies a possible demand zone in that region.
Bitcoin 4H Chart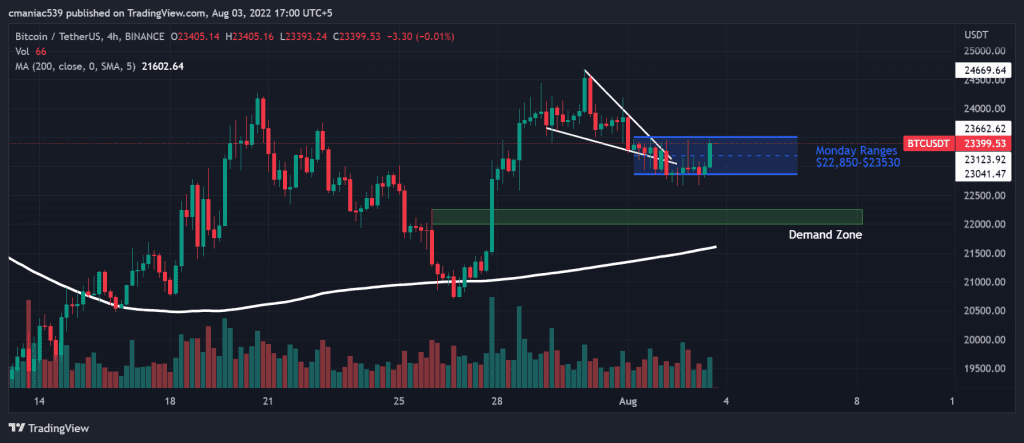 InvestingCube Premium S&R Indicator
Trading in tough and choppy market conditions like cryptocurrencies could be overwhelming. One simple yet effective tool which always keeps you ahead in the game in Investingcube's Premium S&R Indicator. Subscribing to this indicator would notify you about all the potential profitable trade setups.
Currently, the indicator is signalling a buy at $22,945, which is close to the Monday range lows as described in our Bitcoin price analysis. The target of this trade is the Monday range high i.e. $24,500.