As our last Bitcoin price prediction mentioned, the bears tanked the price to the bottom of the rising wedge. Nevertheless, the bulls were quick to respond, and the BTC price bounced off the $19,550 level. During Monday's trading session, the price action liquidated many shorts by tagging the $20,430 level.
The markets are in a downtrend once again after a short relief rally that took BTC price from $17,600 to $25,000. However, the bulls lost momentum at the critical level as the selling pressure increased after the FED Chair's hawkish remarks. Consequently, the price dipped below $20,000, creating a wave of panic among investors.
At the time of writing, the Bitcoin price is trading at $20,416. The price is 0.62% up from yesterday. However, on the higher timeframe, the top digital asset is still 70% down from its November 2021 all-time high of $69k. The ongoing downtrend is fuelled by the constant rate hikes and the fear of a prolonged recession. If you're considering buying Bitcoin or investing in other digital assets, you need to sign up on a top crypto exchange like Binance.
According to Bitcoin news today, Bitbase is going to launch its Bitcoin ATM in Venezuela this year. These ATMs would act as a Fiat on-ramp for the citizens of the country amid hyperinflation. In other news, the Iranian government has decided to regulate crypto mining and trading while also considering crypto-based payments for imports.
Bitcoin Price Prediction
At first look, BTC USD price chart appears to be extremely bullish. However, the recent breakdown from the rising wedge also seems to be a bear flag breakdown. A simple BTC technical analysis gives us a measured target of $14,600 from this bear flag breakdown. The only way to avoid this scenario is to reclaim the $25,000 within the next few weeks.
However, this bearish target won't be met that easily as our Bitcoin price prediction depends on the macroeconomic environment as well. As soon as the FED pivots from its decision to raise interest rates, the demand for risk-on assets like Bitcoin will significantly increase. Therefore, proper risk management is necessary before taking a bias in these market conditions.
Bitcoin Daily Chart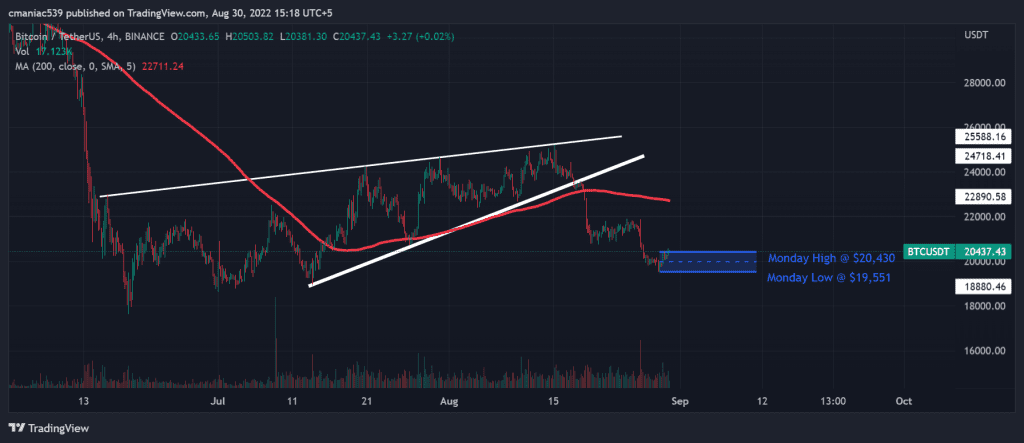 BTC Price Analysis By S&R Levels
Trading cryptocurrencies could be quite overwhelming for new investors. Subscribing to InvestingCube's Premium S&R Levels indicator saves you the drill as it automatically alerts you about potential trade setups. All you need to do is to set the targets and stop loss.
At the moment, this indicator is suggesting a BTC short trade from the $20,570 level. The targets for this trade are $19,532 & $18,958. The stop loss for this setup is $21,870. This analysis might appear to be contradicting our above Bitcoin price prediction. The reason is that it considers a shorter timeframe.