Bitcoin prices are ticking higher once more after some developments in the crypto market boosted sentiment slightly. In addition to the US President's new executive order on cryptocurrencies which helped Bitcoin prices lift off from the 32,900 price mark two weeks ago, there are indications that several countries are starting to embrace Bitcoin in one form or another.
Reports from India indicate that the country's financial regulatory agencies are mulling classifying cryptocurrencies as a form of property that can be subject to taxation under the so-called GST law. The Indian government already has a 1% TDS on all crypto transactions and a 30% tax on all crypto-related income. Under the new proposals, the GST Council could bring cryptos under its Goods and Services Tax (GST) law, thus enabling it to levy the entire value of any crypto-related transaction. This is being seen in some circles as a positive development, given that the Reserve Bank of India had previously called for a total ban on cryptos in India.
Also boosting sentiment in the crypto market is the calls in Malaysia and Honduras to recognize Bitcoin as a legal tender. In Malaysia, it remains an idea voiced out by the Deputy Communications and Multimedia Minister Zahidi Zainul Abidin in Parliament, as per a Bloomberg report.
In Honduras, it may have gone a lot further, as candidates for senate seats are reportedly using the introduction of Bitcoin as legal tender as a campaign tool. Honduras borders El Salvador, the first country to use BTC as legal tender. Bitcoin prices are now trading at 3-week highs. After touching off intraday highs at $43,361, the BTC/USDT pair is now trading 3.62% higher at 42.497.
Bitcoin Price Outlook
The price activity continues within an evolving triangle. The uptick has violated the resistance at 42000. A clear break targets 44259, with this resistance standing between the triangle breakout and the 48400 barrier. If the breakout occurs, 52100 is expected to be the completion point of the measured move, and it becomes viable if 48400 gives way.
This outlook is negated if the bears force down the Bitcoin price below 42000. This move makes room for a retest of 39950, with the attainment of 37327 putting the triangle's lower border in danger. 35955 is another target to the south, standing between the bears and the 32900 support (24 January low).
BTC/USDT: Daily Chart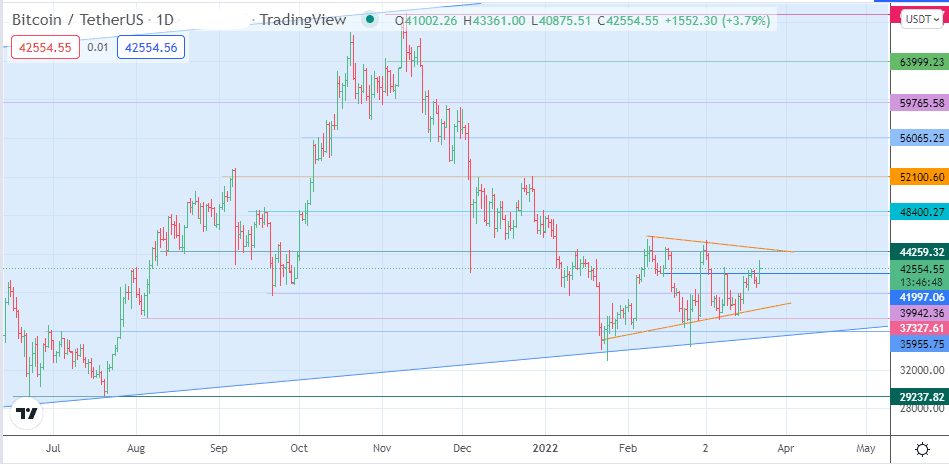 Follow Eno on Twitter.