Bearish Bitcoin Cash price predictions appear once more after the crypto market suffered another day in the red. Bitcoin Cash and several major altcoins suffered yet another day of decline as traders reacted negatively to the latest onslaught by Chinese authorities on crypto market participants.
On Monday, the local authorities raided a mining farm, leading to the seizure of more than 10,000 mining rigs. The raid followed a statement put up by the Peoples Bank of China on Friday, declaring all virtual currency activity as illegal. This action is also driving the closure of trading accounts of Chinese citizens on several exchanges. The crypto trading ban covers all cryptos and any digital assets tied to virtual currencies.
Bitcoin Cash is down 0.61% on Tuesday, as the BCH/USDT attempts to target the price completion point of the measured move
from the breakdown of the descending triangle on the chart.
Bitcoin Cash Price Prediction
The decline in Bitcoin cash sets up a Bitcoin Cash price prediction for the bears to push price action to the 444.3 support level. If the decline continues, 383.2 becomes a new target. 325.2 comes into the picture if the bulls cannot defend 325.2, setting the stage for the BCH/USDT pair to hit new multi-month lows.
On the flip side, the bulls need to generate a bounce at 444.3 that takes out 535.9. If this scenario plays out, we could see a recovery that targets 603.1 initially before 706.9 comes into play. If the bulls can push the price hard enough to uncap 804.6, the price activity would form the higher high needed to restore the uptrend.
Bitcoin Cash Price Chart (Daily)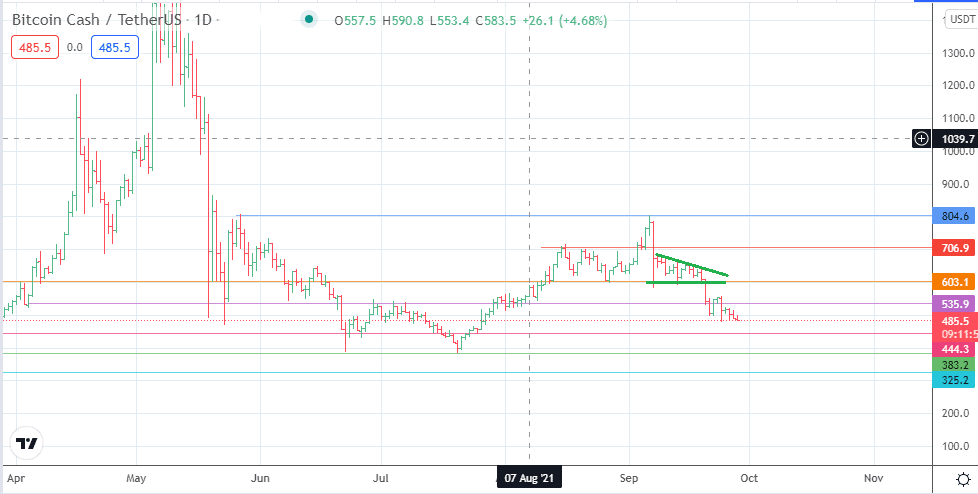 Follow Eno on Twitter.