A return of bearish Binance Coin price predictions could follow if today's initial steep fall can receive a further push from the bears. Following a selloff on Bitcoin, other correlated coins such as the Binance Coin also saw significant selling this Tuesday. 
The fall in the Binance Coin price followed its decision to restrict trading products based on the Singaporean Dollar (SGD), following regulatory warnings by the Monetary Authority of Singapore (MAS) about the exchange's activities. 
The selloff comes after yet another warning from a regulatory watchdog, which is the second in a week after the South African financial regulators warned about the exchange's activities in South Africa. The number of regulatory warnings that Binance has received from regulators is now in the double digits. Still, bulls appear to have some confidence in the company's performance, hence the strong intraday rejection.
Binance coin remains 5.28% lower as of writing.
Binance Coin Price Prediction
The violation of the neckline of the double top patter met support at 428.029 but was quickly rebuffed by bulls, resulting in the strong bounce that overcame the neckline. The double top, therefore, remains unconfirmed. Confirmation of this pattern must follow a neckline breakdown at 450.604, targeting a measured move towards 400.014. This move must break the 428.029 support as well.
On the flip side, bulls require a break of the 520.775 resistance level to continue the recovery from the 20 July lows. This move must uncap the resistance at 479.949 and could follow a bounce off the neckline at 450.604. On completion of this move, new targets for bulls include the 561.00 psychological resistance and the 610.635 barriers (21 April and 14 May highs).
Binance Coin (Daily Chart)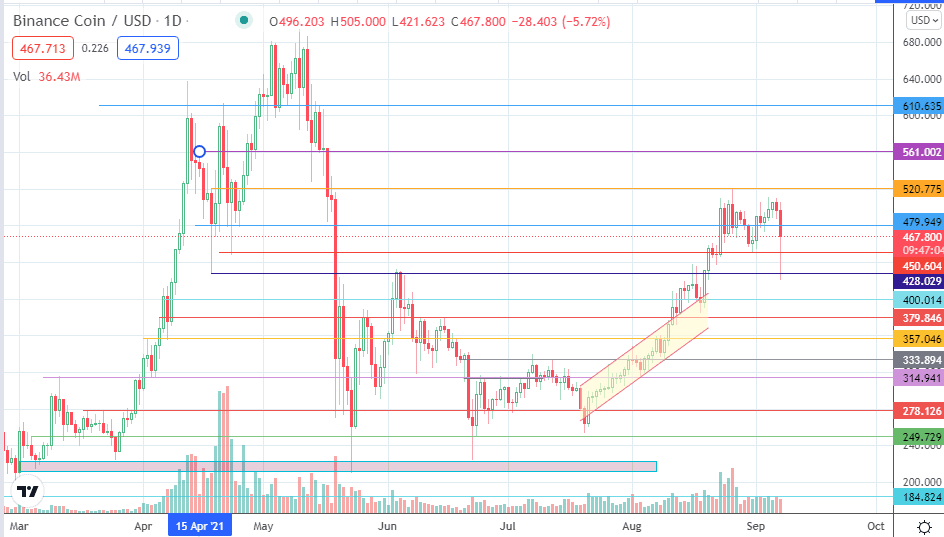 Follow Eno on Twitter.