The Binance Coin price is holding up well considering Bitcoin's violent sell-off, but more volatility may lie ahead for BNB.
Binance Coin (BNB) is unchanged at $559 (+0.09%) early Monday, up 25% from Saturday's low of $448 but down -9.8% in the last seven days. BNB's market cap has fallen from $108 to $92 billion in December but remains the 3rd largest cryptocurrency behind Ethereum (ETH). Like ETH, Binance Coin has outperformed Bitcoin during the recent downturn. Despite BTC's plunge on Saturday, BNB closed above the major moving averages and reclaimed horizontal support, which keeps the overall bull market intact. However, although BTC has bounced +15% from the lows, the technical outlook has deteriorated, suggesting more weakness is likely. In that event, altcoins like BNB will be vulnerable to liquidations.
BNB Price Forecast
The daily chart shows the Binance Coin price sliced through the 100-Day Moving Average at $497 on Saturday but remained above the significant 200-DMA. Furthermore, the bounce reclaimed the 100-DMA on a closing basis, which is constructive. Subsequently, $497 is the first notable support level, followed by the 200-DMA at $422, just below the June high at $435. And above the market, $590, followed by the $705 all-time high, are notable resistance levels.
In my view, Binance Coin remains vulnerable in the immediate future, despite Bitcoin's knee-jerk bounce. Therefore, this week, traders should expect heightened volatility, which could force BNB below the above support levels.
I am leaning towards weakness and expect BNB to test the 100-DMA (and potentially the 200-DMA) soon. However, a close above the 20-Day moving average at $592 (Mid-point of Bolinger Bands) invalidates the bearish thesis.
Binance Coin Price Chart (Daily)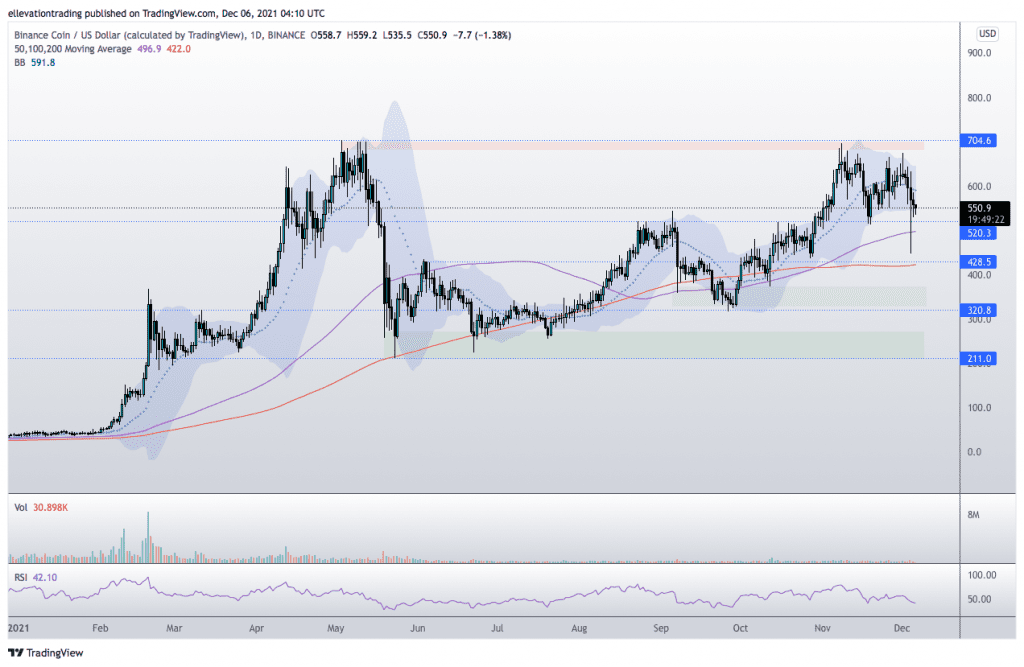 For more market insights, follow Elliott on Twitter.